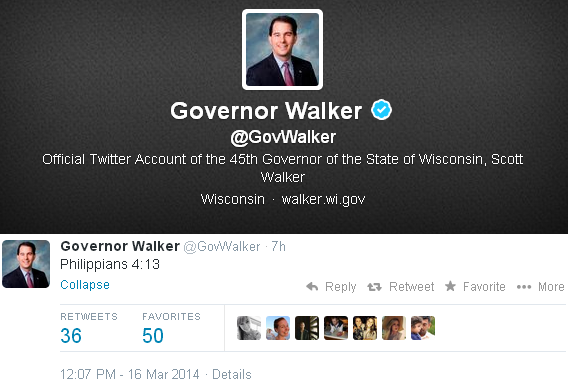 Wisconsin Gov. Scott Walker is on the receiving end of a letter of complaint from the Freedom From Religion Foundation in Madison for a religious tweet on his official Facebook and Twitter accounts.
On Sunday, March 16, either Walker or someone empowered to posted the following: "Philippians 4:13" (see screen shots), a bible verse which says, "I can do all things through Christ, who strengthens me."
FFRF, a state-church watchdog with 20,000 members nationwide and about 1,300 in Wisconsin, reminded Walker in a March 18 letter that it's "improper for a state employee, much less for the chief executive officer of the state, to use the machinery of the state of Wisconsin to promote personal religious views."
Co-Presidents Annie Laurie Gaylor and Dan Barker, in FFRF's letter, said Walker's tweet "seems more like a threat, or the utterance of a theocratic dictator, than of a duly elected civil servant."
The letter cites court cases that prohibit government officials from endorsing religion over nonreligion. If a department head or ordinary employee were to use state resources to promote personal beliefs, they would most certainly be admonished.
The question is will Walker be able to get away with it? If so, what might he post next, maybe something from Acts 10 (in which a sheet descends from above, with a voice saying, "Rise, Peter; kill, and eat")? More sustenance and strength for the religious and exclusion for non-Christians.
The letter concludes, "On behalf of our membership, we ask you to immediately delete this religious message from your official gubernatorial Facebook and Twitter. May we hear from you at your earliest convenience?"