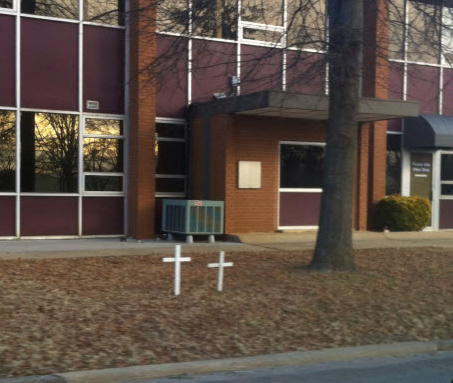 The Police Department in Searcy, Ark., appears to be doubling down on its efforts to inject religion into government with the addition of another Christian cross on its lawn.
The Freedom From Religion Foundation first notified then-Police Chief Kyle Osborne about the violation in March 2013 after a local citizen complained to FFRF. Since then, city officials have stonewalled the Madison, Wis.-based group that advocates nationwide for state-church separation.
On January 29 FFRF senior staff attorney Rebecca Markert, sent another letter to City Attorney Buck Gibson, following up one sent Jan. 16. "It has come to FFRF's attention that a second cross has been erected on the lawn of the city of Searcy Police Department." A photo (above) shows the crosses side by side.
As noted in FFRF's Jan. 16 press release, current Police Chief Jeremy Clark first claimed last May that he'd found "no such display." In December, he admitted there was a cross but claimed it was a moot issue because it was near his 'Äúprivate entrance.'ÄĚ
"We write again to request that you move the additional cross as well and any other crosses that appear on the lawn of the Police Department," Markert said in her Feb. 3 letter.
FFRF also sent letters Jan. 16 to Clark and Mayor David Morris about public comments attributed to them that were reported in the Daily Citizen newspaper.
Morris called Searcy (a city of about 23,000) a 'ÄúChristian community,'ÄĚ and Clark reportedly said, 'ÄúChristianity is part of our police department.'ÄĚ
FFRF Co-Presidents Dan Barker and Annie Laurie Gaylor took issue with both of those statements. "As mayor, you represent all Searcy residents, including atheists, Jews, and other non-Christians. In other words, you were elected to represent the entire city, not just Christians."
News reports said St. Paul United Methodist Church placed the first cross on city property in 2011.
The latest letter asks for a written response from the city so the local complainant can be assured the law is being complied with.