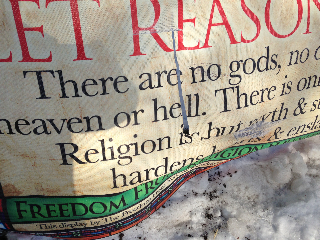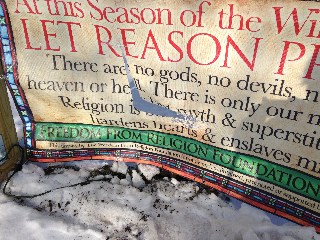 The Freedom From Religion Foundation's Winter Solstice banner in an Arlington Heights city park was cut into shreds by a vandal earlier this week. The banner was slashed with an L-shaped cut, and a carefully buried spotlight cord was wrenched from the ground.
The banner was placed in North School Park for a second year in a row by members of FFRF and its chapter, Metropolitan Chicago FFRF, to counter a nativity scene on public property.
Kathi Wise, a Chicago chapter board member, asks: "Peace on earth, goodwill to all?"
"Since we had planned to take the banner down this Sunday, December 29, it would be too late at this point for FFRF to send a replacement," said Tom Cara, chapter director, in a statement at the Metropolitan Chicago Chapter's website.
"So perhaps the best thing is to leave it as is, so that people can see what a divisive issue religion can be when debated on government property."
The slashing occurred the evening after a news story about the competing displays ran in the Daily Herald, suburban Chicago's largest daily. Ironically, Melissa Silverberg reported that the two displays "are coexisting — mainly peacefully — in North School Park this holiday season."
In 2012, the Illinois Nativity Scene Committee pushed for permission to place a nativity scene in the public park, prompting FFRF's Chicago chapter to respond with an opposing sign.
FFRF, a Madison, Wis.-based national state/church watchdog with over 20,000 members nationwide, has about 760 members in Illinois.
FFRF's sign, composed by FFRF President Emerita Anne Nicol Gaylor explicitly to counter religious displays on public property, reads:
"At this Season of the Winter Solstice, let reason prevail. There are no gods, no devils, no angels, no heaven or hell. There is only our natural world. Religion is but myth and superstition that hardens hearts and enslaves minds."
Said FFRF Co-President Annie Laurie Gaylor, "So often when Religious Right groups push to erect manger scenes on public property and the government responds by calling it a 'public forum,' there truly is 'no room at the inn' for minority or nonreligious views. There is only a forum for dominant Christian views."
Cara reported the crime to the police, which is minimally a misdemeanor. Because FFRF's nonreligious message was targeted, the act also qualifies as a Class 4 felony under Illinois' hate crime law.
This is not the first recent vandalism directed at an FFRF banner in an Illinois park. FFRF's banner to counter a devotional Easter display in April 2012 was stolen. A huge sign saying "Jesus died for your sins" was accompanied by a display of three crosses. FFRF countered with a cheerful yellow banner saying, "Nobody died for our sins. Jesus Christ is a myth." Although FFRF offered a reward (and erected a replacement banner) the theft went unsolved.
On Tuesday night, a Christian Right group also temporarily covered up the 8 ½ foot lighted "A" (for atheism, agnosticism) and a banner celebrating the "nativity" of the Bill of Rights erected by FFRF and its Chicago area chapter in Daley Plaza. The plaza is replete with religious displays that went unmolested. FFRF, unlike the Christian group, has a permit for its display.