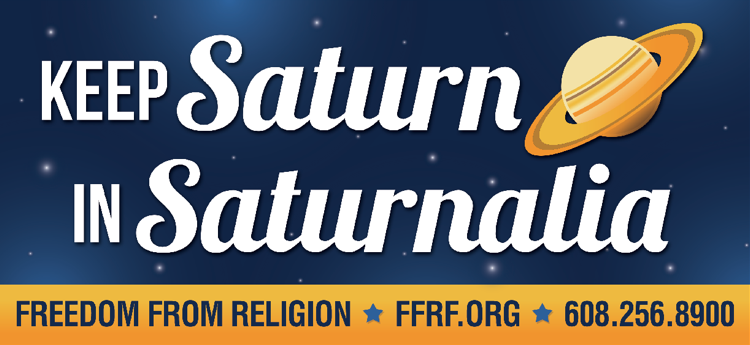 The Freedom From Religion Foundation, the nation's largest association of atheists and agnostics, is sponsoring a secular holiday billboard in the borough of Pitman, N.J., a location that in the past has shown favoritism to Christianity while censoring nonbelievers.
"Keep Saturn in Saturnalia" is the message that went up Dec. 12 on the billboard located off West Holly Avenue a mile east of Lambs Road in Pitman, about 20 miles southeast of Philadelphia.
The billboard will be up for a month and is meant to counter the "Keep Christ in Christmas" display by the Knights of Columbus that the borough seems to think is appreciated by persons of non-Christian religions and those who follow no creed at all.
FFRF and its local members were stonewalled in December 2012 by borough officials who denied FFRF a permit to display "Keep Saturn in Saturnalia" even though the Knights of Columbus banner was allowed. The banner's traditional spot is downtown above Broadway Avenue, where it's strung by firefighters.
(Pitman, which has about 10,000 residents, is still "dry" every day of the week. Its roots are in 1870s' land grants for a Methodist summer camp. The 12 streets leading from the auditorium at the center of the camp were named for disciples of Jesus.)
FFRF first became involved in December 2011, when a resident reported the Christian banner as a potential state/church violation. Legal staff made numerous calls and sent messages to various public agencies and the Chamber of Commerce, including open records requests, and asked to erect FFRF's own banner, which wasn't allowed.
FFRF encountered similar stonewalling in December 2012 while seeking a permit to counter the Christian banner.