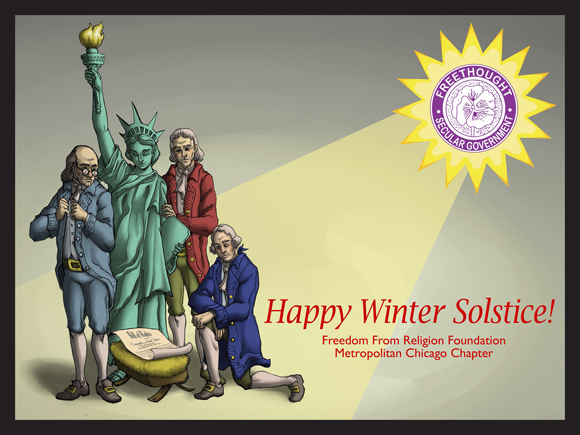 Freedom From Religion Foundation's new Chicago-area chapter has placed a Winter Solstice banner in Niles, Ill., celebrating the "nativity" of our Bill of Rights. It depicts the Founding Fathers reverently observing the Bill of Rights in a manger.
The FFRF Metropolitan Chicago Chapter is posting its colorful secular banner to counter the religious displays in the Village of Niles Plaza, which regularly include a life-size nativity scene during the month of December.
FFRF is a national state/church watchdog with over 19,000 members nationwide, including over 670 in Illinois.
FFRF Metropolitan Chicago Chapter President Tom Cara approached Village administration back in November about the possibility of adding a little freethought into the overtly religious plaza displays. Town officials approved the group's sign and the rest is history (literally, as the sign depicts the Bill of Rights, which was ratified on Dec. 15, 1791).
"We are very pleased that Tom and our new chapter were able to convince the Village of Niles to 'make room at the inn' for this creative Winter Solstice display, honoring U.S. liberties, including the vital principle of separation between state and church," said FFRF Co-President Annie Laurie Gaylor.
The Winter Solstice sign is 18"x24" and is in a mostly "drive by" location.
Warm thanks to Jake Fortin and Rimon Bar for the contributed banner idea and artwork. Jake hosts "The Good Atheist," a successful podcast about all things atheist.
FFRF points out that the Winter Solstice (Dec. 21) — the shortest and darkest day of the year, signaling the return of the sun in the Northern Hemisphere — is "the real reason for the season." It is a natural holiday that has been celebrated for millennia with festivals of light, gift-exchanges and feasting.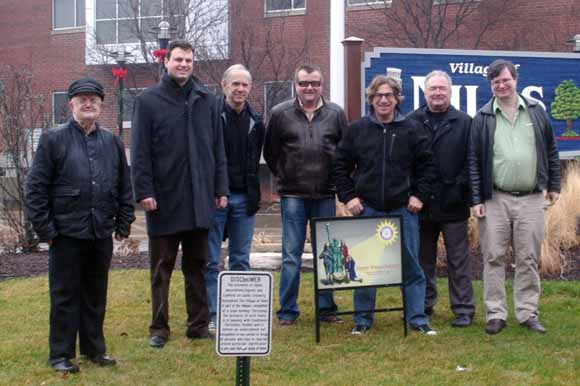 FFRF Metropolitan Chicago Chapter Members pose with the sign.