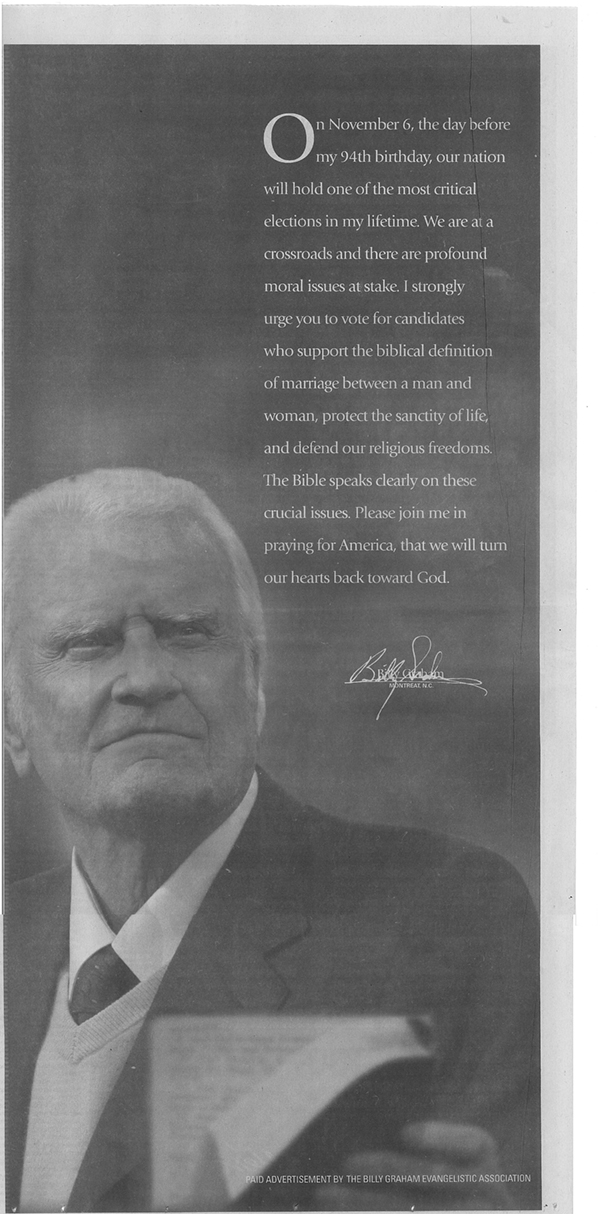 The Freedom From Religion Foundation condemns as "blatant politicking" full-page ads by the Billy Graham Evangelistic Association, which make clear whom Graham wants voters to choose for president and U.S. Senate. The ministry ran ads in Sunday's New York Times and in the Wisconsin State Journal two Sundays in a row, as well as in USA Today on Oct. 19, in the Wall Street Journal on Oct. 18, and in "more than a dozen national and battleground state newspapers before Nov. 6," according to Huffington Post.
Billy Graham met with Mitt Romney in his North Carolina home on Oct. 11, where the evangelist tacitly endorsed Romney for president. According to Huffington Post, "Although the Romney campaign stopped short of calling it an endorsement, Graham made it clear at the meeting's conclusion that Romney had his support. After leading a prayer for the Republican nominee, Graham told Romney, 'I'll do all I can to help you. And you can quote me on that.' "
Two days after the meeting, the ministry announced its "vote biblical principles" campaign.
On Sunday, Oct. 21, a full-page ad ran in the Wisconsin State Journal. Graham's face dominated half of the ad, which reproduced his signature. The text attributed to Graham read:
"On November 6, the day before my 94th birthday, our nation will hold one of the most critical elections in my lifetime. We are at a crossroads and there are profound moral issues at stake. I strongly urge you to vote for candidates who support the biblical definition of marriage between a man and woman, protect the sanctity of life and defend our religious freedoms. The Bible speaks clearly on these crucial issues. Please join me in praying for America, that we will turn our hearts back toward God."
The ad is clearly marked "Paid advertisement by the Billy Graham Evangelistic Association," a 501(c)(3) tax-exempt charity. Tax exempt organizations are forbidden by the IRS to engage in partisan politicking, which includes actions making clear whom tax-exempt entities want people to vote for or against.
"It was not necessary for Billy Graham to name names. One presidential candidate has come out in favor of marriage equality for gays and is pro-choice. The other rejects gay marriage and is antiabortion. Ditto for Wisconsin's heated U.S. Senate race, between one candidate who is antiabortion and anti-gay marriage, and the other candidate who is a lesbian who supports marriage equality and abortion rights," noted Annie Laurie Gaylor, FFRF Co-President.

"This is dirty pool," she added, because taxpayers are subsidizing these ads by virtue of the fact that donations to the Graham ministry are tax-deductible, making it an "unfair political battle."

A similar full-page ad ran again in yesterday's State Journal, as well as the New York Times. The ad featured a photo of the evangelist's face taking up two-thirds of the page, and this statement by him:

"The legacy we leave behind for our children, grandchildren, and this great nation is crucial. As I approach my 94th birthday, I realize this election could be my last. I believe it is vitally important that we cast our ballots for candidates who base their decisions on biblical principles and support the nation of Israel. I urge you to vote for those who protect the sanctity of life and support the biblical definition of marriage between a man and a woman. Vote for biblical values this November 6, and pray with me that America will remain one nation under God."

Tax-exempt organizations may engage in voter registration drives. These ads by the Graham ministry, which reported $122 million in net assets for the year 2011, go far beyond that, FFRF contends.

The "coded" message continues at the Billy Graham Evangelistic Association website, where a majority of banner ads and highlighted links on the homepage work together to send an endorsement message for Romney. These include:

1. A banner ad saying "Vote Biblical Values on November 6. Important Message from Billy Graham" (with his photo) taking readers to copies of the ads the ministry is running around the country.

2. A banner ad saying "Billy Graham Welcomes Mitt Romney," featuring a photo of Romney and Graham, linking to more photos and a press release saying: "It was a privilege to pray with Gov. Romney—for his family and our country." The press release features the same language as the current ads, urging readers "to vote for candidates who will support the biblical definition of marriage, protect the sanctity of life and defend our religious freedoms."

3. A banner ad saying "Can an Evangelical Vote for a Mormon? Franklin Graham Provides an Answer," linking to a statement by the junior Graham dated Oct. 22, 2012, which concludes: "So, can a Christian vote for a Mormon? The answer is yes."

"These coded messages overall create a clear message of endorsement of a presidential candidate, even picturing Romney with the head of the ministry," said Gaylor.

After Billy Graham's Oct. 21 meeting with Romney, references to Mormonism as a "cult" were "scrubbed" from the ministry's website, according to Religion News Service.

FFRF received many complaints from its North Carolina members and members of the public after Graham was featured in ministry ads supporting the North Carolina referendum to ban gay marriage, which passed this summer. FFRF found no evidence that the ministry had registered with state election officials in North Carolina.

"The Billy Graham Evangelical Association is abusing its tax-exempt status," said Gaylor. FFRF will pursue complaints with appropriate agencies. Read letter to Wisconsin Government Accountability Board.