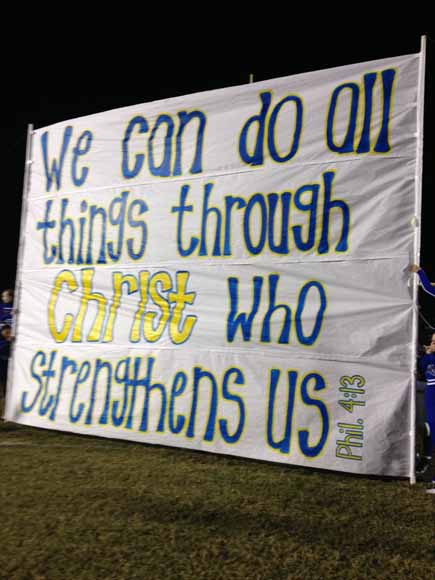 The Freedom From Religion Foundation sent a letter of complaint Oct. 26 to Autauga County Schools Superintendent Spence Agee in Prattville, Ala., after being contacted by a concerned district alumnus about religious banners displayed by Marbury High School cheerleaders at football games for players to run through.
"We understand that each week a different bible verse is displayed for all to observe," wrote Stephanie Schmitt, FFRF staff attorney. "You must take immediate action to stop these religious banners from being part of school-sponsored events."
FFRF, a national state-church watchdog based in Madison, Wis., has received several complaints about the practice becoming popular at other schools and recently sent letters to Kountze, Texas; Newton, Texas; Bossier Parish, La.; Stone County Schools, Miss.; and Thackerville Schools, Okla. FFRF was notified that the Stone County district ordered cheerleaders to stop making religious banners. The Kountze case has received massive media coverage and is being litigated.
Schmitt cited several relevant U.S. Supreme Court cases, including Santa Fe Indep. Sch. Dist. v. Doe, in which the court ruled the school policy allowing student prayer to be announced at football games was unconstitutional. The court reasoned that because the football game was still a school-sponsored event, the fact that a student was leading the prayer did not cure the constitutional violation.
"Like the student-initiated prayers in Santa Fe, student-initiated religious banners that the football team must run through are also inappropriate and unconstitutional," wrote Schmitt.
"Public high school events must be secular to protect the freedom of conscience of all students. Autauga County Schools must take immediate action to ensure that religious messages are not part of any school-sponsored events. These religious messages displayed at football games constitute an unconstitutional government endorsement of religion. A reasonable Marbury student would certainly perceive the banners 'as stamped with [his/]her school's approval.'
"No student should be made to run through a religious banner. For example, a Jewish football player should not have to run through a New Testament message to play. This practice offends non-Christians and nonbelievers alike."