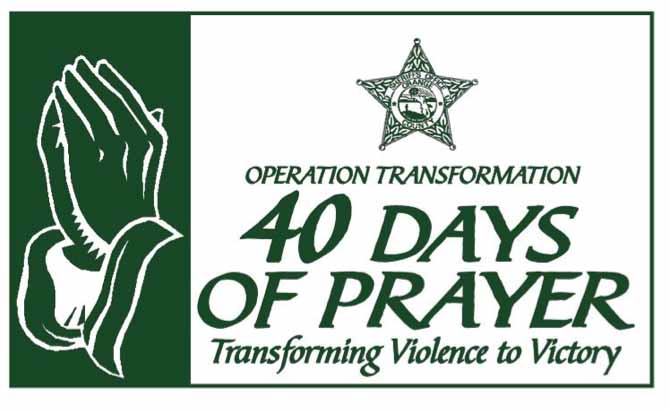 View a PDF version of this letter here.
Sheriff Jerry L. Demings
Orange County Sheriff's Office
PO Box 1440
Orlando, FL 32802-1440
Re: Orange County Sheriff using 40 days of prayer to lower crime
Dear Sheriff Demings:
I am writing on behalf of the Freedom From Religion Foundation ("FFRF") and our local members who object to the Orange County Sheriff's Office ("OSCO") calling for 40 days of prayer to help fight crime. FFRF is a nationwide nonprofit organization, which works to protect the constitutional principle of separation of church and state. FFRF represents more than 18,500 members across the country including more than 850 members in Florida.
We are appalled and saddened by the random shooting of Danielle Sampson. We join with others in decrying this senseless violence, and demanding reform to get assault weapons off of our streets and protect innocent lives. Our organization, mainly atheists and agnostics, has just donated $250.00 to help the Sampson family pay for Danielle's medical care at gofundme.com/supportdanielle. However, senseless and tragic violence is not an excuse to disregard the Constitution.
We understand that over the next 40 days, the OSCO will be leading "nightly prayer vigils bringing OCSO and the faith community together to reduce violence." This call to prayer appears on the official OSCO Facebook page. Below this text appears a picture (enclosed) of hands held in prayer with the official Orange County Sheriff's Office Badge and the test "Operation Transformation: 40 DAYS OF PRAYER."
Calling upon citizens to pray is coercive and beyond the authority of any government, let alone a law enforcement arm of the government. Citizens should not be made to feel offended, excluded, or like political outsiders because the Sheriff they support with their taxes imposes religious ritual on them. Put simply, your office is misusing its secular power to call for religious rituals and exhort citizens, regardless of beliefs, to participate in prayer.
It is a fundamental principle of Establishment Clause jurisprudence that the government cannot in any way promote, advance, or otherwise endorse religion. The Supreme Court has said, "The touchstone for our analysis is the principle that the 'First Amendment mandates governmental neutrality between religion and religion, and between religion and nonreligion.'" McCreary County v. ACLU, 545 U.S. 844, 860 (2005), (quoting Epperson v. Arkansas, 393 U.S. 97, 104 (1968); Everson v. Board of Ed. of Ewing, 330 U.S. 1, 15-16 (1947); Wallace v. Jaffree, 472 U.S. 38, 53 (1985).
As Sheriff, your overt promotion of religion using your official title, badge, and seal gives the unfortunate impression that the County supports and endorses particular religious rituals. The government is sending the message "to nonadherents that they are outsiders, not full members of the political community, and an accompanying message to adherents that they are insiders, favored members…" Id. (citations omitted). "This presents a problem for the Sheriff because the Establishment Clause prohibits the government from 'promot[ing] or affiliat[ing] itself with any religious doctrine or organization.'" Milwaukee Deputy Sheriffs' Ass'n v. Clarke, 588 F.3d 523, 528 (7th Cir. 2009), (cite to Sup. Ct. omitted).
Apparently, the OSCO believes that this prayer will lower crime: "According to Chaplain Willie James Barnes, praying for safer streets is something that works. He was part of a similar project with Orlando police in 2008. 'It worked. We did it all over the city of Orlando, and I'll tell you the crime rate went down,' said Barnes."
The members of the Freedom From Religion Foundation believe that nothing fails like prayer. Prayer is the ultimate cop-out, the ultimate admission that the invoker is giving up, is transferring personal responsibility to an imaginary being. It is particularly vexing to see people congratulate themselves for praying or holding a prayer rally, instead of taking meaningful action, such as working for rational regulation assault rifles and those who purchase them.
Significantly, scientific studies show that societies with less prayer have less violence:
"Murder rates are actually lower in more secular nations and higher in more religious nations where belief in God is deep and widespread. And within America, the states with the highest murder rates tend to be highly religious, such as Louisiana and Alabama, but the states with the lowest murder rates tend to be among the least religious in the country, such as Vermont and Oregon. Furthermore, although there are some notable exceptions, rates of most violent crimes tend to be lower in the less religious states and higher in the most religious states. Finally, of the top 50 safest cities in the world, nearly all are in relatively non-religious countries, and of the eight cities within the United States that make the safest-city list, nearly all are located in the least religious regions of the country."
Furthermore, "studies of heroic altruism during the Holocaust, found that the more secular people were, the more likely they were to rescue and help persecuted Jews." In fact, when any given factor of societal health or well-being is measured, invariably the less religious countries score better. The least religious countries of this world:
• Have the lowest rates of violent crime and homicide
• Are the best place to raise children
• Are the best place to be a mother
• Have the lowest rates of corruption
• Have the lowest levels of intolerance against racial and ethnic minorities
• Score highest when it comes to women's rights and gender equality • Have the greatest protection and enjoyment of political and civil liberties
• Are better at educating their youth in reading, math, and science
• Are the most peaceful
• Are the most prosperous
• Have the highest quality of life.
The pattern of lower religiosity to higher societal well-being is not limited to an international analysis. This trend also exists within United States. Those states that are the most religious also have a high occurrence of societal ills. States that tend to be among the most religious in the nation:
• Have the highest rates of poverty
• Have the highest rates of obesity
• Have the highest rates of infant mortality
• Have the highest rates of STDs
• Have the highest rates of teen pregnancy
• Have the lowest percentage of college-educated adults
• Have the highest rates of murder
• Have the highest rates of violent crime.
Prayer is ineffectual. Public, government prayers not only conflict with the Constitution as pointed out above, but also with biblical teachings. Christians who know their bible are familiar with the injunction of Jesus in the Sermon on the Mount, condemning public prayer as hypocrisy. "Enter into thy closet and when though hast shut the door, pray to thy Father which is in secret." (Matthew 6:5-13).
To avoid the constitutional concerns and the divisiveness these prayers cause within the community the solution is simple: discontinue using your government office to promote prayers. While religious leaders are free to hold prayer rallies, the Orange County Sheriff's Department is not. Public officials should get off their knees and get to work. Do something practical to help Danielle and prevent other such crimes. Please inform us in writing of the actions that Orange County is taking to remedy these constitutional violations. May we hear from you at your earliest convenience?
Very truly,
Annie Laurie Gaylor
Co-President