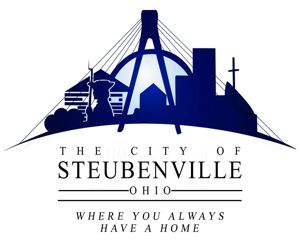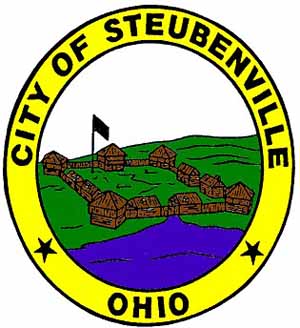 Left: This logo is being retired. Right: This older logo is the temporary replacement.
A complaint by the Freedom From Religion Foundation over inclusion of a chapel with a cross atop it on the new seal for Steubenville, Ohio, has resulted in a victory.

The city of Steubenville law director emailed FFRF this morning to report, "the city council has agreed to change the logo as per your request." For now they are reverting to their previous city logo, until a new design is completed.
The disputed silhouette depicted the chapel of Franciscan University, which even Franciscan University spokesperson Tom Sofio told media is "instantly recognizable worldwide." A different, nonreligious image of a different building from the University will be substituted.
FFRF Staff Attorney Patrick Elliott wrote Mayor Domenick Mucci on May 22, pointing out the city logo containing a Latin cross violates the Constitution. FFRF, with nearly 19,000 members nationwide, wrote on behalf of a Steubenville complainant. FFRF has members in Steubenville and nearly 500 in Ohio.
Elliott's letter included a long list of federal court decisions consistently ruling it is unconstitutional for crosses and religious symbols to appear on municipal seals and logos:
"Any claims of historical or cultural significance to the Latin cross on the Steubenville City logo do not relieve the City of its constitutional obligations. The City of Steubenville must not endorse 'faith' and church. While we understand that Franciscan University is a part of the City, the City may not depict the University chapel and cross because to do so places the City's imprimatur behind Christianity. This excludes nonChristians and violates the Constitution."
"We're pleased with the expeditious response," said FFRF Co-President Annie Laurie Gaylor.
"It's so clear why a city cannot and should not send a message that it is has a Christian orientation, thereby making Christian residents favored insiders, and nonChristians, including nonbelievers, outsiders. Government cannot pick sides on religion. All citizens — whether Christian, Jewish, atheist or agnostic, Muslim, etc. — must be welcomed as full participants, and the only way to do that is to keep religion out of government."