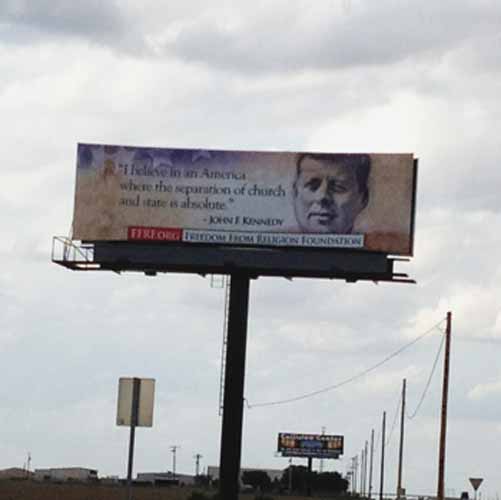 The Freedom From Religion Foundation has placed a new 14'x48' billboard featuring the words of John F. Kennedy on the west side of Interstate 27 one mile north of the Lubbock International Airport in Lubbock, Texas. The billboard will be up for at least six months.

FFRF is a national state/church watchdog with over 19,000 members nationwide, including over 860 in Texas.

The billboard reads: "I believe in an America where the separation of church and state is absolute — John F. Kennedy." The billboard quotes JFK's famous speech as a presidential candidate before the Greater Houston Ministerial Association on Sept. 12, 1960.

"The deterioration of respect for this constitutional principle since that speech is breathtaking," said Annie Laurie Gaylor, FFRF co-president.

The billboard was donated by FFRF member Michael Zargarov of Houston. Zargarov kindly gave FFRF the space after selling a pair of chairs from the movie, "The Ten Commandments." The buyer just happened to own a local billboard company and offered Zargarov the space as payment for one of the chairs, valued at $10,000.

"It was very generous of Michael to think of FFRF when it came time to select a billboard design," Gaylor added.

FFRF believes that JFK's bold statement is especially relevant in the current political climate.

"We've gone from a nation where politicians once had to show reverence for the First Amendment principle of separation between state and church to one where they wear religion on their sleeves and think they have to trash the Constitution to get elected," noted FFRF Co-President Dan Barker.