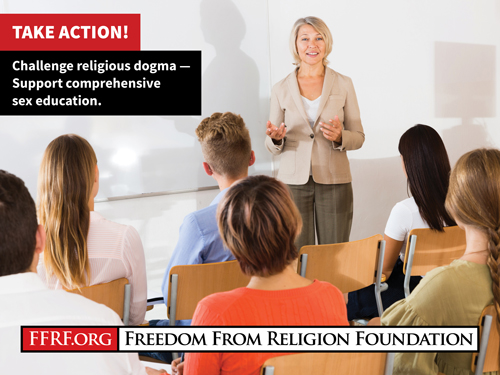 A dangerous, religiously motivated bill would restrict age-appropriate sex education and ban discussions of LGBTQ people in Arizona public schools. We need your help to stop this.
State Sen. Sylvia Allen has proposed SB 1082, which would remove the word "homosexuality" from all public school teaching materials and forbid schools from teaching sex education to students under the age of 12. Allen, a conservative Christian who has previously called for mandatory church attendance and recently warned colleagues about the "browning of America," is also the chair of the Senate Education Committee.
This infiltration of church dogma into public school classrooms endangers the health of students exposed to it. It is wildly irresponsible to codify a religious worldview that erases LGBTQ youth and censors public schools from providing age-appropriate sex education.
This proposed legislation is scheduled for a hearing by the Senate's Education Committee tomorrow — Tuesday, Jan. 14. It is critical that members hear your opposition to this arcane bill. If you are able, please attend tomorrow's meeting and speak out in opposition to this bill.
If you are not able to speak in person, please use our simple, automated system to contact the members of the committee and let them know that these proposals are not aligned with Arizona values. Click on the red "Take Action!" button below and feel free to use or adapt the talking points provided.
Senate Education Committee Hearing
Day: Tuesday, Jan. 14
Time: 2 p.m.
Location: SHR 1