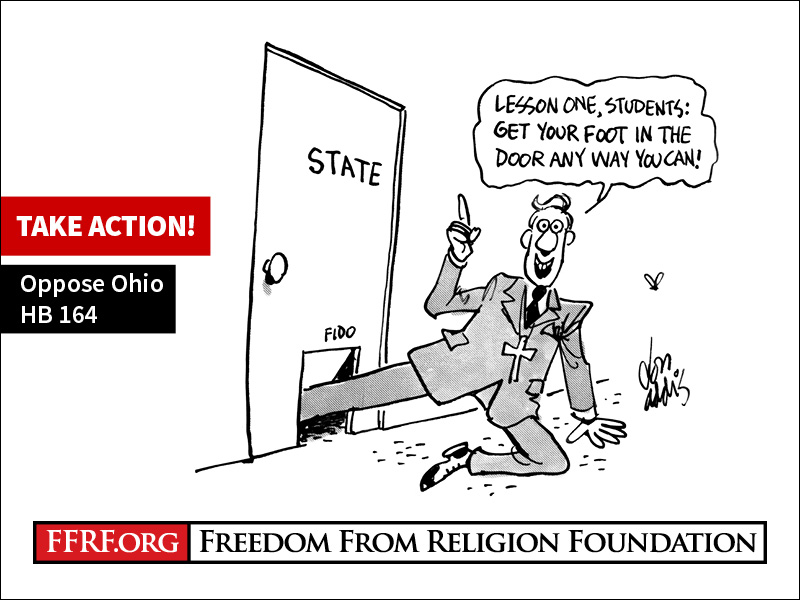 Yesterday, the Ohio House of Representatives passed HB 164, the so-called "Student Religious Liberties Act." This bill is designed to embolden public school employees to abuse their position by pushing religion on their students. We have a chance to stop this bill while it's in front of the Ohio Senate, and we need your help.
FFRF's Strategic Response Team testified in opposition to HB 164 in May, and the bill languished in the state House since then, until it got a surprise vote yesterday. Please consider taking a moment to use our automated system to contact your state senator and ask them to oppose HB 164. Click the red "Take Action!" link below. Feel free to use or adapt the talking points provided.
MORE INFO
HB 164 states that public schools may not "penalize or reward a student based on the religious content of a student's work." Federal and state law already provide this protection, meaning this law is redundant at best. However, some teachers will wrongly understand this to mean that they may not punish students who substitute their religious beliefs for an actual, secular lesson. For instance, students might refuse to study evolution based on their religious notions, and will point to this law to argue that giving them less than full credit would be punishing them for their religious beliefs.
The bill also singles out student religious events that public school employees often illegally participate in. For example, the bill mentions See You At The Pole, an annual prayer event that is meant to be just for students, but in practice adults, including school employees, often organize and take part in the event. This bill will give school employees the false impression that they are allowed to promote and participate in student religious events like this, which will subject public schools to legal liability.
Ironically, by jeopardizing students' rights to a secular public school system, HB 164 would harm students' religious liberty under the guise of promoting exactly that.