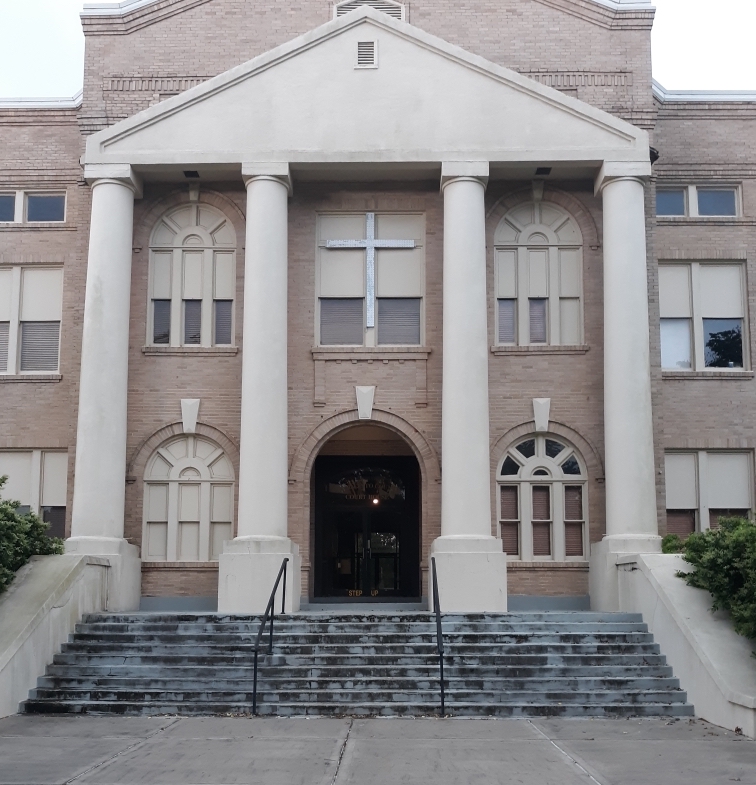 Tomorrow, May 8, the San Jacinto Commissioners are holding a meeting to decide whether or not to respond to FFRF's complaint about the four large crosses displayed on the county courthouse. A concerned Coldspring resident reported to FFRF that San Jacinto County has the crosses up all year round and even lights the crosses during the holiday season. FFRF Legal Fellow Chris Line wrote to the county and urged them to remove the crosses immediately.

The Latin cross is undeniably the pre-eminent symbol of Christianity, and the county's permanent display of such religious iconography is unconstitutional. As Chris Line wrote, "No secular purpose detracts from the overall message that the Latin cross stands for Christianity and that the display promotes Christianity." Click here to read local coverage.

The crosses not only create the undeniable image of government preference of Christianity, but also convey the message to Americans who are not Christian, including the growing 24 percent who are not religious at all, that they are outsiders their own community.

Please contact the county commissioners and urge them to take down the crosses and not expose taxpayers to expensive and unnecessary legal liability by ignoring this request. Please feel free to use or adapt the talking points provided below.

County Commissioners' Contact Information:
Laddie McAnally (936) 653-5045
Donny Marrs (936) 628-3267
David Brandon (281) 592-1109
Mark Nettuno (936) 377-2481

TALKING POINTS
As a local constituent, I am urging you to remove the four crosses from the front of the San Jacinto Courthouse. The crosses indisputably amount to an unconstitutional government endorsement of religion. They do not represent me or the growing number of nonreligious and non-Christian Americans.

Please do not open the county's taxpayers up to expensive legal liability by ignoring the request to remove these crosses. Thank you for your time.