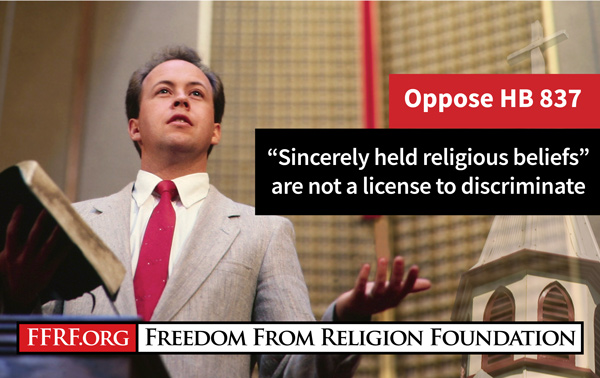 The Missouri Legislature is currently considering HB 837, a bill that prohibits colleges from enforcing anti-discrimination policies on religious student groups under the guise of religious liberty.
The bill, currently in front of the House Committee on Higher Education, prohibits discrimination against a religious student association as long as its leaders "adhere to the association's sincerely held religious beliefs, comply with the association's sincere religious practice requirements, comply with the association's sincere religious standards of conduct, or be committed to furthering the association's religious missions."
In other words, this bill uses a prized tactic of the Religious Right, which is to impose a distorted view of religious liberty that trumps the civil rights of other campus community members. Under this rule, religious student groups could discriminate against LGBT individuals, or even individuals of a particular race, so long as they cite a religious reason for the discrimination.
The Missouri House of Representatives Higher Education Committee is meeting in House Hearing Room 1 next Monday, March 25 at 6 p.m., to review this bill. Please use our simple, automated system and ask the members of the committee to reject this bill. Please feel free to use or adapt the talking points provided below. If you are able, please attend the meeting and register in opposition of this bill.