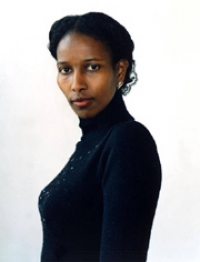 Brandeis University in Massachusetts has taken the deplorable action of rescinding an honorary degree offered to Ayaan Hirsi Ali, a campaigner for women's rights and fierce critic of Islam. Brandeis announced the award to Hirsi Ali, along with four others, on March 31. The Massachusetts university was immediately inundated with protests against her selection by Islamic groups, such as The Council on American-Islamic Relations, which compared Hirsi Ali to white supremacists and anti-Semites.
Hirsi Ali was born in Mogadishu, Somalia. In 1992, she escaped an impending arranged marriage to a relative, immigrating to the Netherlands, where she not only learned the language, earned a master's degree but was elected to the Dutch Parliament in 2003, and wrote two books criticizing Islamic treatment of women, including "The Caged Virgin." In 2004, her friend and collaborator Theo Van Gogh was brutally murdered for a film Hirsi Ali wrote, "Submission," about Islamic oppression of women. Hirsi Ali was forced to go into hiding. But she has refused to be silent in speaking about the dangers of faith. Hirsi Ali, the author of the bestselling books "Infidel" and "Nomad," identifies as an atheist and has written in detail about the harm Islam causes including female genital mutilation, martyrdom and honor killings.
The Justice, Brandeis University's student newspaper, raged against the decision to honor Hirsi Ali for her contribution to women's rights by claiming:
"In her 2010 memoir Nomad: From Islam to America, Hirsi Ali states that Islam is 'not compatible with the modern Westernised way of living,' that 'violence is an integral part [of Islam],' and that 'Muhammad's example is terrible, don't follow it.' These comments ignore the fact that there are multiple views of Islam, insist that violence is inherent in Islam and that one culture is fundamentally better than another . . . By presenting Hirsi Ali with an honorary degree, the University applauds all aspects of her work."
Brandeis University bowed to pressure and rescinded her honorary degree, releasing this statement: "We cannot overlook certain of her past statements that are inconsistent with Brandeis University's core values."
Ayaan Hirsi Ali won FFRF's Emperor has no clothes award in 2010. Read her speech here.

CONTACT
Please contact Brandeis University to ask it to apologize for its shoddy treatment of a freethinking feminist, and to re-offer its honorary degree to Ayaan Hirsi Ali.
General email contact form here.

Office of the President
Fred Lawrence
MS 100
415 South Street
Waltham, MA 02453-2728
781-736-3001
781- 736-8699 fax
TALKING POINTS
Use your own words or feel free to paste the statement below or borrow from it:
"I am appalled at Brandeis University's bad manners and worse logic in offering, then rescinding an honorary degree to Ayaan Hirsi Ali, who stands for women's rights in the face of religious oppression, and secularism in the face of the rise of Islamism (Muslim theocracy). Shame on Brandeis!"
READ MORE
Ayaan Hirsi Ali's Statement - The Weekly Standard
Brandeis University Decides Against Honoring Critic Who Called For Islam To Be 'Defeated'
Huffington Post

After Backlash from Muslim Groups, Brandeis University Will No Longer Be Giving an Honorary Degree to Ayaan Hirsi Ali
Friendly Atheist Blog
-Compiled by Lauryn Seering