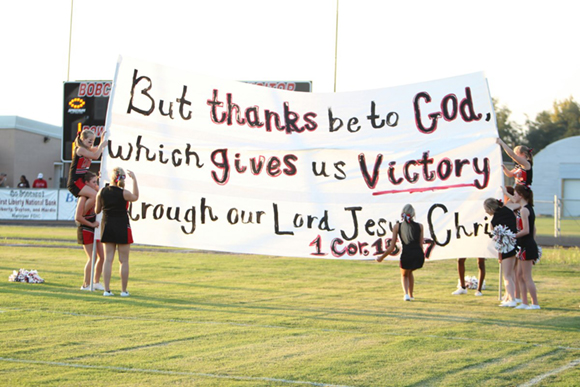 Ever since the Freedom From Religion Foundation persuaded a Texas high school last week to disallow the practice of having football players run through giant paper posters adorned with bible verses and prayer, the state of Texas has been in a state of hysteria!
Please help FFRF protect its victory ending this outlandish school/religion violation by urging Kountze High School to stand by its decision.
The complaint is bizarre even by Religious Right standards. As the Beaumont Enterprise put it, "For three straight weeks, high school football players in a small southeast Texas town took the field by bolting through large red-and-white banners that hollered the praises of Jesus Christ." Until FFRF complained, that is.
FFRF Staff Attorney Stephanie Schmitt wrote a Sept. 17 letter to Superintendent Kevin Weldon of the Kountze Independent School District, informing him that the practice of cheerleaders presenting religious banners for football players to run through at games runs afoul of the Constitution. A 2000 Supreme Court decision, involving a Texas case, nixed student-initiated school prayers at sporting events.
Weldon, after consulting school district attorney Tanner Hunt, very properly advised school administrators and student activities sponsors that the bible verse banners would be stopped. Read the reply from the school district here.
Last Thursday, however, the Liberty Institute managed to obtain a 10-day temporary restraining order from the Hardin County, Texas state district court, allowing the banners to remain. FFRF is sure that ultimately courts will uphold the bible ban. School district cheerleaders are acting as representatives of the school, wearing uniforms with the school's name, and are granted an unparalleled forum and access to the field at an official school function in order to promote school spirit, not religious "spirits." As such, their banners have the appearance of school-endorsed speech.
TAKE ACTION
Please phone and/or email Superintendent Weldon to support his wise decision to follow Supreme Court rulings by ending this inappropriate practice. The religious community is up in arms and the school board needs to defend itself against the lawsuit, not capitulate. The district needs to sustain its decision and resist interference from the Liberty Institute. To read more about it, scroll to the end.
If you are a resident of the area or Texas, please identify yourself as such. Include your address and other contact information when appropriate. Please take a moment to draft a short, but strong note of gratitude (or better yet, phone).
CONTACT
Mr. Kevin Weldon, Superintendent
Kountze Independent School District
PO Box 460
Kountze, TX 77625
Phone: (409) 246-3352
Fax: (409) 246-3217
Email: This email address is being protected from spambots. You need JavaScript enabled to view it.">This email address is being protected from spambots. You need JavaScript enabled to view it.
(One sentence is sufficient. Your own words are best. But you may wish to copy this paragraph in your correspondence:)
I support Kountze ISD's wise decision to halt unconstitutional bible verse banners at football games. Just as it would be inappropriate for cheerleaders in school uniforms at official school functions to sport banners saying, "Praise Allah!" or quoting Koranic verses, so is it inappropriate for them to misuse the forum the school confers on them and their status representing the school to promote Christianity and bible verses. Those banners confer an appearance of official school endorsement. Your decision shows that the school district respects clear court precedent and the individual rights and freedoms of a diverse community. Thank you. (Sign name)
MEDIA COVERAGE/BACKGROUND
KIII: "Religious banners banned at Kountze football games"
Beaumont Enterprise: "Texas school bars Bible banners at football games"
Thank you for your help!