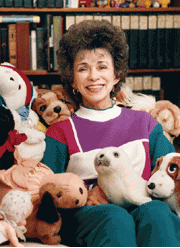 Catherine Fahringer, an officer of the Foundation, an activist who ran a chapter of FFRF in San Antonio for many years, and a radiantly friendly face known to freethinkers around the nation for her warmth, charm and dedication, died on Dec. 13 at her home.
Catherine, 86, died of pancreatic cancer, which was first diagnosed in late September.
A memorial arranged by friends and relatives took place on Jan. 24 in San Antonio.
Catherine was born on Sept. 12, 1922, in Salt Lake City. An "Army brat," she moved around with her family but considered San Antonio her hometown. She was preceded in death by her husband, Fred Fahringer, and lived overseas with him during his military career. Her daughter, Devon, died in an accident in her 20s. Catherine is survived by her son, Steve Fahringer, a Foundation member, and his wife, Debbie.
Catherine first joined the Foundation in 1987, and immediately went to work in Catholic-dominated San Antonio to promote the Foundation, freethought and state/church separation. She wrote many articles about her adventures in freethought for Freethought Today. She founded Freethought Forum as a chapter and used the name for a long-lived cable TV show.
Catherine got a "Freedom From Religion" banner erected on a prominent city street to call attention to an FFRF convention in San Antonio, and organized a 1994 "Rally for Reason" to protest the National Day of Prayer.
An inveterate letter-writer, she once got letters published in the very same week in both Time and on "60 Minutes." With Dan Barker, she represented the Foundation on a 1990 TV broadcast of "Sally Jessy Raphael." She worked persistently to educate local and national media and politicians about the dangers of mixing religion and government.
Catherine was the subject of a cover story in the San Antonio Express-News Sunday magazine, "Portrait of an Atheist," in 1991, written by reporter Craig Phelon, which is reprinted in the anthology, Women Without Superstition, edited by Annie Laurie Gaylor.
"We loved Catherine and miss her," said Foundation copresident Annie Laurie Gaylor. "She was not only one of FFRF's best activists, but she was one of our best friends, best boosters and best advertisements for freethought."
The Foundation will run a full tribute to Catherine Fahringer, a Lifetime Member, in the March issue.
The Foundation is announcing a Catherine Fahringer Youth Activist Memorial Award of $1,000 annually in her honor.