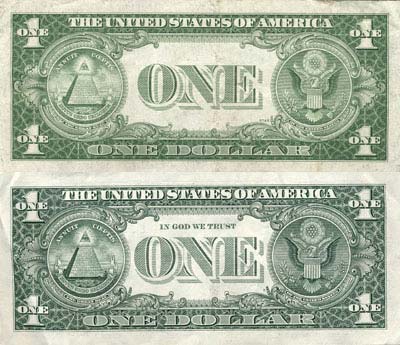 Of all of the complaints over state/church entanglement received by the Freedom From Religion Foundation, none has received more complaints from our membership than the inscription "In God We Trust" on currency.
To learn more about how a religious motto supplanted U.S. secular heritage, read on and see the links below.
The Freedom From Religion sued the federal government in 1994 to have "In God We Trust" removed from currency and as our national motto.
The motto was put on all paper currency by an Act of Congress in 1955. The phrase was chosen as our national motto by an Act of Congress in 1956. It first appeared on paper currency in 1957.
The Foundation lawsuit was dismissed by a 10th-circuit federal judge on the grounds that "In God We Trust" is not a religious phrase. The Foundation appealed the dismissal.
Foundation Lawsuit Challenges "In God We Trust" Motto
Freethought Today, June/July 1994
"In God We Trust" Legal Complaint
Freethought Today, June/July 1994
"In God We Trust" Appeal
Freethought Today, January/February 1996
In God We Trust Appealed To High Court
Freethought Today, May 1996
US Supreme Court Turns Down Foundation Appeal
Freethought Today, June/July 1996