Tribute to Anne Nicol Gaylor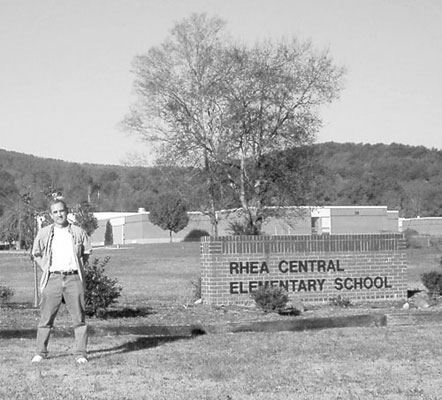 Dan Barker at the Tennessee school that was teaching bible classes.
Michael Hakeem:
"FFRF won "Scopes II," before the 6th Circuit Court of Appeals, halting 51 years of unlawful bible instruction in Rhea Co. (Dayton, Tenn.) schools, this summer.
"Just this October, FFRF won its federal lawsuit in Montana in which faith-based nursing through the 'Montana Faith-Health Cooperative' was funded and merged with two Montana state offices!
"This summer the Foundation also filed suit against George Bush's creation of the White House Office of Faith-based initiatives and similar cabinet level posts, another nationally watched case.
"Anne leaves behind her a great record of accomplishments in doing what she sought to do.
"But it is not all litigation. Those who read Freethought Today will recall seeing the exchange of correspondence between FFRF and violators of the First Amendment, under the title, 'It pays to complain.' Sometimes a gentle polite letter reminding officials that they are violating the First Amendment, a longtime principle of American democracy, will result in compliance.
"Anne -- I'm sure that I speak for all of us when I wish you a happy and comfortable retirement. You have done a great service for our society, so vigorously defending the constitutional edict to keep church and state separate."