This contest is now closed. Please return in the Spring of 2020 for updated scholarship information.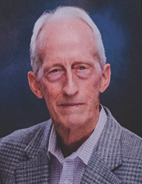 First Place Prize: $3,500
Second Place Award: $3,000
Third Place Award: $2,500
Fourth Place Award: $2,000
Fifth Place Award: $1,500
Sixth Place Award: $1,000
Seventh Place Award: $750
Eighth Place Award: $500
Ninth Place Award: $400
Tenth Place Award: $300
Optional Honorable Mention(s): $200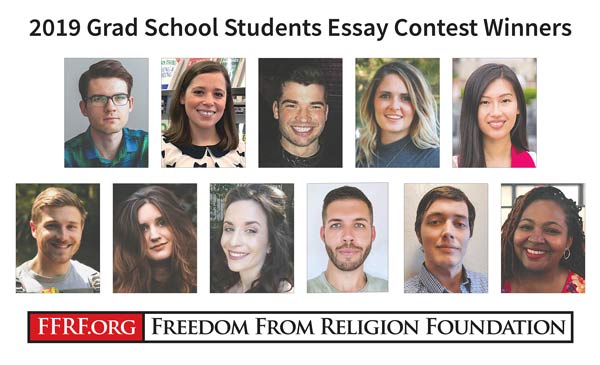 The Freedom From Religion Foundation is proud to announce the 19 winners of the Brian Bolton Essay Contest for Graduate/"Older" Students. FFRF has paid out a total of $17,850 in award money to this year's contest winners.
Graduate students up to age 30 or undergrad students ages 25-30 were asked to write a persuasive essay that uses at least one biblical passage to show how its influence causes harm today to individuals, civil liberties or society in general. In an overview of all the entries received, the students selected 37 different verses from 15 books in the bible. The most-used verse in these essays (written about by four students) was Romans 13:1 — "Let everyone be subject to the governing authorities, for there is no authority except that which God has established. The authorities that exist have been established by God."
This contest is generously and singlehandedly endowed by Lifetime Member Brian Bolton, a retired psychologist, humanist minister and professor emeritus at the University of Arkansas. Bolton is also underwriting the Bible Accountability Project to call attention to the continuing harm of the bible to society.
FFRF thanks Dean and Dorea Schramm of Florida for providing a $100 bonus to students who are members of a secular group, student club or Secular Student Alliance. The total of $17,850 reflects those bonuses.
FFRF also thanks "Director of First Impressions" Lisa Treu for managing the details of the essay contests. And we couldn't judge these competitions without help from our "faithful faithless" volunteers and staff members, including Don Ardell, Linda Aten, Dan Barker, Bill Dunn, Annie Laurie Gaylor, Dan Kettner, Katya Maes, Gloria Marquadt, Dave Petrashek and PJ Slinger.
FFRF has offered essay competitions to college students since 1979, high school students since 1994, grad and older students since 2010 and one geared specifically for students of color since 2016. A fifth contest for law school students debuts this year.
Winners, their ages, the colleges or universities they are attending and the award amounts are listed below. The winning essays will be reprinted or excerpted in the November issue of Freethought Today, FFRF's newspaper.
First place
Skylar Christensen, 28, University of Utah, $3,500.
Second place
Barbara Alvarez, 30, University of Wisconsin-Madison, $3,100.
Third place
Joseph Sankowski, 27, University of Toledo, $2,500.
Fourth place
Danyka J. Morgan, 25, College of Western Idaho, $2,000.
Fifth place
Angela Wu, 23, University of Pennsylvania Law School, $1,600.
Sixth place
Benjamin Stokes, 29, George Washington University, $1,000.
Seventh place
Meagan McLendon, 28, University of North Texas, $750.
Eighth place
Alexis Muschal, 29, Boston University-Grad School of Medicine, $500.
Ninth place
Neil A. Heacox, 29, Cal Poly Pomona, $400.
Tenth place (tie)
Sam Hyde, 26, University of Florida-Levin College of Law, $300.
Tenth place (tie)
Jonathan Ortiz, 22, University of Florida, $400.
Honorable mentions ($200 each)
James Bingaman, 26, University of Delaware.
Florencia Cabral Berenfus, 29, University of Colorado-Boulder.
Kristina M. Lee, 28, Colorado State.
Amber Osborn, 29, Butler Community College.
Miranda Percy, 30, Texas Tech.
Chelsea Robinson, 30, University of Southern California.
Samaya Shuput, 29, Roseman University.
Amber Wright, 26, The New School.