This contest is now closed. Please return in the Spring of 2020 for updated scholarship information.
First Place Prize: $3,500
Second Place Award: $3,000
Third Place Award: $2,500
Fourth Place Award: $2,000
Fifth Place Award: $1,500
Sixth Place Award: $1,000
Seventh Place Award: $750
Eighth Place Award: $500
Ninth Place Award: $400
Tenth Place Award: $300
Optional Honorable Mention(s): $200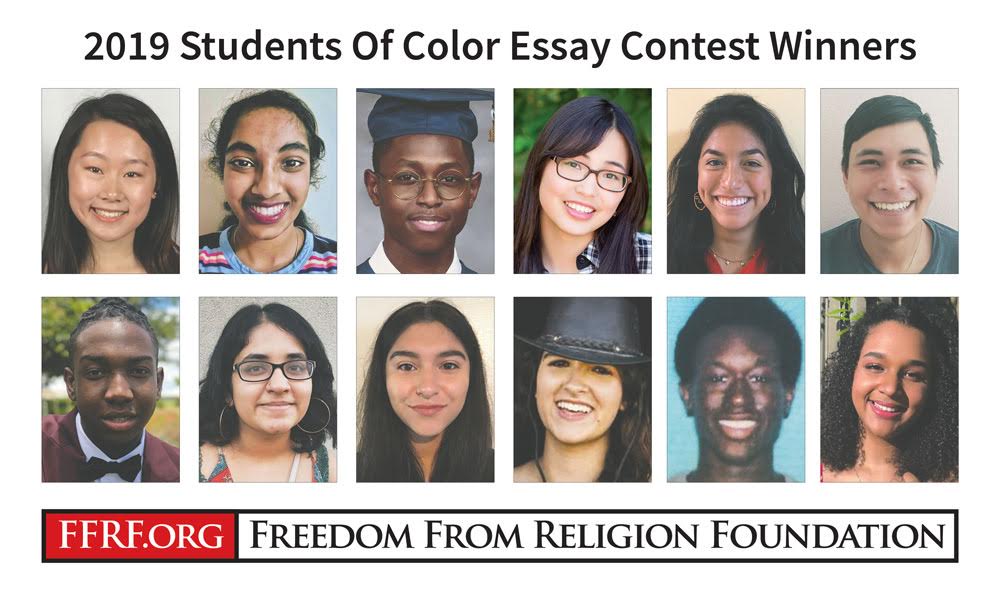 The Freedom From Religion Foundation is proud to announce the 30 winners of the 2019 David Hudak Memorial Students of Color Essay Competition for College Students.
FFRF has paid out a record total of $20,850 in award money for this contest this year. FFRF thanks Dean and Dorea Schramm of Florida for providing a $100 bonus to students who are members of a secular student club or the Secular Student Alliance. The total reflects those bonuses.
College students of color were asked to write a personal persuasive essay about "How being nonreligious has enhanced your life and how the secular community can better engage people of color." This contest is named for the late David Hudak, an FFRF member who left a bequest to generously fund a student essay contest, for which FFRF is eternally grateful.
FFRF also thanks "Director of First Impressions" Lisa Treu for managing the details of this and the four other student essay contests and, of course, our "faithful faithless" volunteer and staff readers, including Don Ardell, Linda Aten, Dan Barker, Bill Dunn, Annie Laurie Gaylor, Judi Jacobs, Dan Kettner, Katya Maes, Gloria Marquadt, Dave Petrashek, Lauryn Seering and PJ Slinger.
FFRF has offered essay competitions to college students since 1979, high school students since 1994, grad students since 2010 and this particular one geared explicitly toward students of color since 2016. A fifth contest for law school students debuts this year.
Winners, their ages, the colleges or universities they are attending and the award amounts are listed below.
First place
Nicole Li, 18, Yale University, $3,500
Second place
Kea Ravi, 19, Ohio State University, $3,000
Third place
Donovan Henderson, 18, Georgia Institute of Technology, $2,500
Fourth place
Mika Kat, 20, Nova Southeastern University, $2,000
Fifth place
Yeh Seo Jung, 18, Swarthmore College, $1,500
Sixth place
Colleen Avila, 17, Washington University, $1,000
Seventh place
George Olea-Romo, 18, UC-San Diego, $750
Eighth place (tie)
Adonis Logan, 19, Centre College, $500
Anagha Sreevals, 18, George Mason University, $500
Ninth place (tie)
Leyma Hernandez, 18, Arizona State University, $400
Elisa Nicolini, 20, Virginia Polytechnic and State University, $400
Tenth place (tie)
Javohn Dyer, 18, Michigan State University, $300
Kimberly Perez, 21, Duke University, $300
Honorable mentions ($200 each)
Camryn Beaco, 19, DePaul University
Raimundo Farmer, 19, Claremont McKenna College
Evan Flemming, 19, Fisk University
Jessie Garcia, 18, Rutgers University
Kenneth Gonzalez Santibanez, 19, Princeton University
Tea Floyd, 18, Columbia College Chicago
Jamiah Hawkins, 18, University of North Carolina at Greensboro
Kathy Ho, 18, University of Tulsa
Asha Johnson, 18, Howard University
Nolan Mangal, 18, Baylor University
Kaylin Moss, 19, Marist College
Sarah Niles, 18, UC-Santa Cruz
Pari Parajuli, 18, UC-Berkeley
Jas Perry, 21, CUNY Hunter College
Isabelle Rosales, 21, Arizona State University
Anoushka Shandilya, 17, UC-San Diego
Raven Yamamoto, 19, Loyola Marymount University