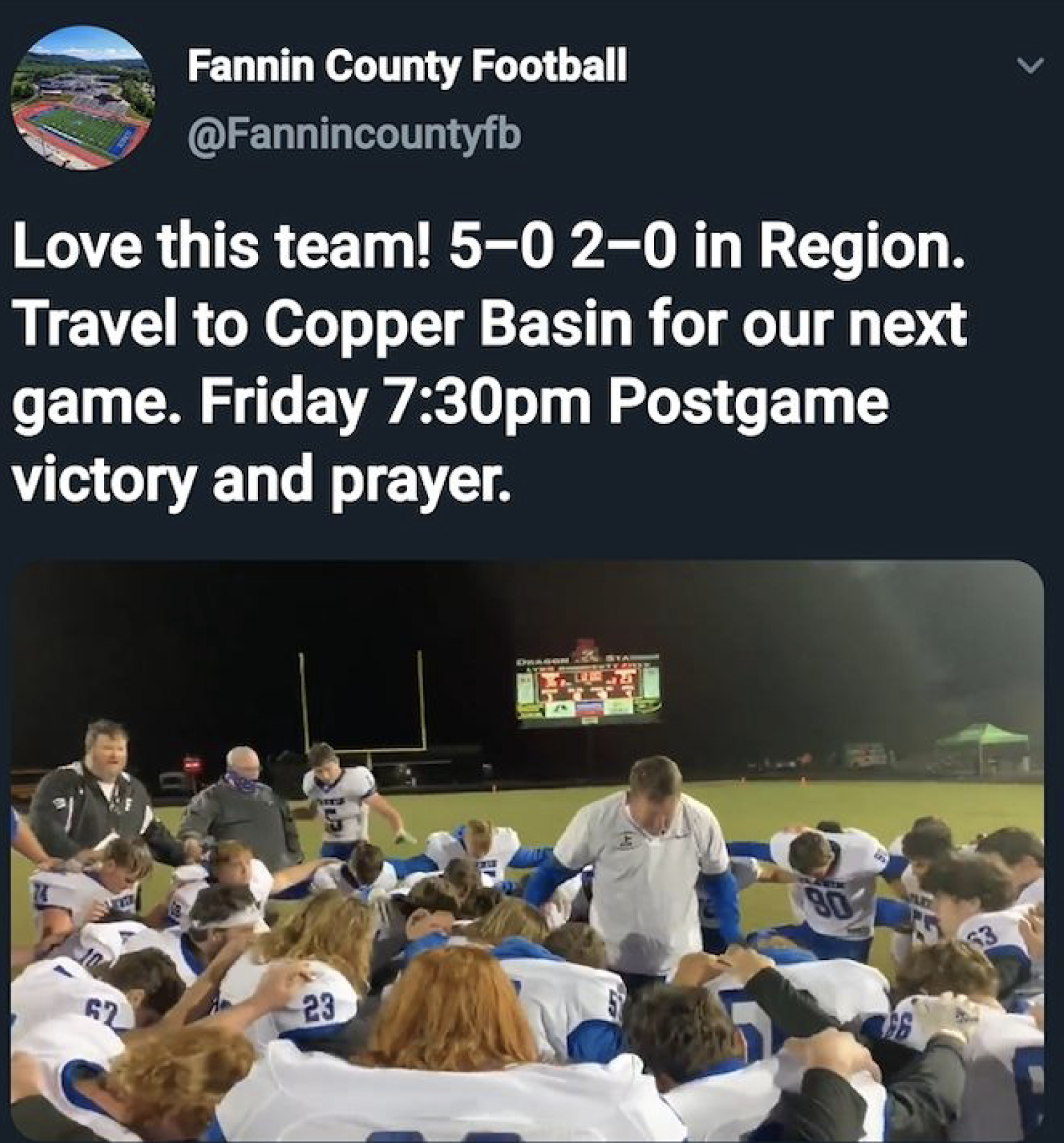 A Georgia school district will be reminding its staff members about their constitutional obligations after the Freedom From Religion Foundation notified officials of a praying coach.
Fannin High School's football coach was regularly leading his team in prayer, FFRF informed Fannin County School System officials. It is illegal for public school athletic coaches to engage in such actions, FFRF reminded the school district.
"The Supreme Court has continually struck down school-sponsored prayer in public schools," FFRF Staff Attorney Chris Line wrote to Superintendent Michael Gwatney. "In each of these cases, the Supreme Court struck down school-sponsored prayer because it constitutes a government advancement and endorsement of religion, which violates the Establishment Clause of the First Amendment."
In Borden v. School District of the Township of East Brunswick (2008), the 3rd U.S. Circuit Court of Appeals rejected the coach's argument that the school district's policy of prohibiting its employees from engaging in prayer with students violated the employees' right to free speech. In fact, the court found that the school district had a right to adopt guidelines restricting this activity because of its concern about potential Establishment Clause violations. The Fannin High School football coach's conduct is unconstitutional, FFRF emphasized, because he endorses and promotes his religion when acting in his official capacity as a school district employee.
FFRF asked the district to commence an investigation and take immediate action to stop any and all school-sponsored prayers occurring within any district athletic programs.
FFRF's intervention helped enlighten the school district.
"The superintendent has met with the high school principal, and a plan is in progress to meet with all coaches this week to discuss issues related to the First Amendment, including the Establishment Clause and Free Exercise Clause," the district's legal counsel recently replied.
FFRF is always pleased to tutor school officials.
"We appreciate that the district has taken action to protect students from religious coercion by their coach," says FFRF Co-President Annie Laurie Gaylor. "Athletes shouldn't be forced into a situation of 'pray to play.'"
The Freedom From Religion Foundation is a national nonprofit organization with over 33,000 members and several chapters across the country, including more than 500 members and a chapter in Georgia. Its purposes are to protect the constitutional principle of separation between state and church, and to educate the public on matters relating to nontheism.