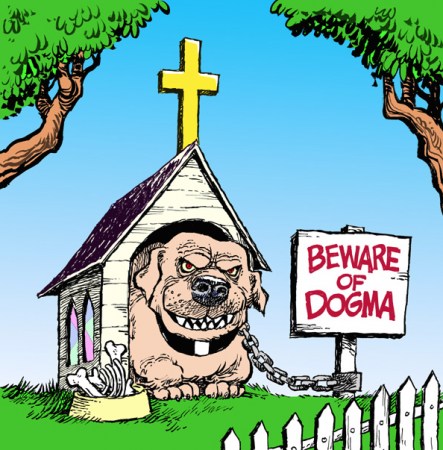 Beware of Dogma Music CD
List of Tracks
1) Beware of Dogma by Dan Barker
2) Fleas by Philip Appleman 3) Salt Lake City Blues by Steve Benson, Steven Clark, Darren Leigh & Dan Barker 4) Why BSA? by Steve Benson and Dan Barker 5) My God Is In My Soul by Michael Newdow 6) Old Time Religion by Pete Seeger 7) None of the Above by Dan Barker 8) Summers of Love by Philip Appleman and Dan Barker 9) Noah by Philip Appleman 10) Pack Up Your Sins and Go to the Devil in Hades by Irving Berlin 11) My Father's House by Dan Barker 12) I Ain't Afraid by Holly Near 13) Mark Twain's War Prayer by Dan Barker and Mark Twain 14) With God On Our Side by Bob Dylan 15) God Bless (-Less) America by Steve Benson, Dan Barker, Irving Berlin 16) Imagine by John Lennon
Free MP3 download of "Salt Lake City Blues" written by former Mormon missionaries Steve Benson, Steven Clark, Darren Leigh, and former evangelical missionary Dan Barker. Sung by Dan Barker.
Sales price without tax
$15.00
FFRF is a not-for-profit charitable organization, not a retail business. We strive to make purchases easy and worry-free. Our "Make it Right" policy means that if you are not 100% satisfied with our products, just CONTACT US or call 608-256-8900 and we will work with you. Also, contact us regarding discounts on large orders, special requests, and costs for UPS or overnight delivery. We typically process orders within 24 hours.