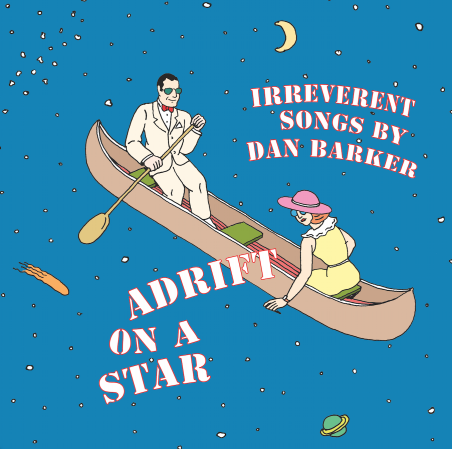 Adrift on a Star Music CD
The Freedom From Religion Foundation released its third musical CD in January, "Adrift on a Star," featuring Dan Barker and friends. The title song is Barker's arrangement of a Yip Harburg poem.
The album's showpiece is "Poor Little Me," a collaboration between Barker, who wrote the lyrics, and Broadway icon Charles ("Annie," "Bye, Bye, Birdie") Strouse, an atheist who received FFRF's Emperor Has No Clothes Award in 2011.
"I had the pleasure of sitting next to Charles Strouse at the 2011 FFRF convention dinner. We chatted about music, the many Broadway and other composers who are nonreligious, and he suggested if I sent him some lyrics, he would put them to music. So I did and he did. It's truly a collaboration, because Charles threw away about half my lyrics — and it's a much better song for it!" says Dan.
What's left are subtly humorous lyrics and rich music blended into a winning song.
List of Tracks:
1) Poor Little Me
2) Get Off Your Knees
3) Somewhere Over The Paper Moon
4) Adrift On A Star
5) Reason
6) In A Dark Time
7) One Sweet Morning
8) It Ain't Necessarily So
9) Experiment
10) Unfaithful
11) I Don't Believe In Fairies
12) Be Still My Child
13) Merry F&*#ing Christmas
14) It's Only Natural
Sales price without tax
$15.00
Call 608/256-8900 during standard work hours or This email address is being protected from spambots. You need JavaScript enabled to view it. the office regarding discounts for large orders of FFRF products, special requests and costs for UPS or overnight delivery