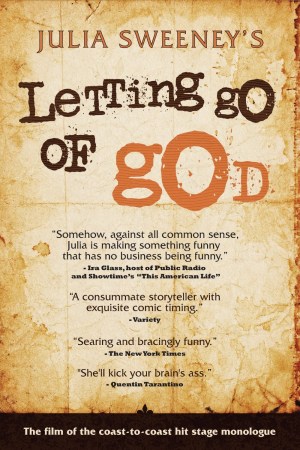 Letting Go Of God DVD
By Julia Sweeney
This DVD is a film of the hit stage monologue, Letting Go of God; which got rave reviews in New York and in Los Angeles. Julia Sweeney tells her personal story of trying to find a God she can believe in. After two Mormon missionaries arrive on her doorstep, she begins to ask herself about her own faith. Julia begins by going back to the Catholic Church, the church she was raised in. She takes a Bible Study class and finds that she can't believe it - she truly can't believe that this book is the basis of her family's faith. She decides to try out Buddhism which leads her to some new age leaders like Deepak Chopra. Eventually she discovers science and finally has to let go of the God she always thought was there.
Sales price without tax
$15.00
Minimum purchase amount is $5.00. Prices include domestic shipping and handling costs. For international orders please call 1 (800) 335-4021
Proceeds support FFRF's unparalleled nonprofit advocacy to promote freethought and keep religion out of U.S. laws and social policy. FFRF is a not-for-profit charitable organization, not a retail business. We strive to make purchases easy and worry-free. Our "Make it Right" policy means that if you are not 100% satisfied with our products, just CONTACT US or call 608-256-8900 and we will work with you. FFRF makes every effort to fulfill orders accurately, and works to meet the expectations of our customers whenever possible. However, discounts, promotions, and bonus items are subject to availability, and may be discontinued at any time. Contact us regarding discounts on large orders, special requests, international orders, and costs for UPS or overnight delivery. Please note that items qualifying for U.S.P.S. media mail services (books, CDs, DVDs) may be sent separately and can take up to 10 days to arrive.