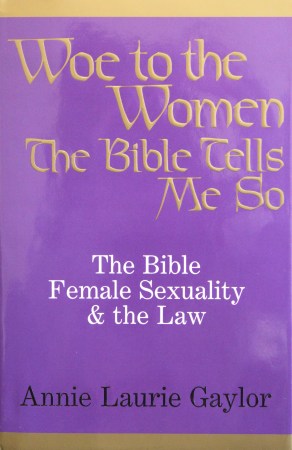 Woe to the Women
The Bible Tells Me So
By Annie Laurie Gaylor
Delightfully illustrated by Alma Cuebas.
In these critical days when fundamentalists are trying to unite church and state, it behooves thoughtful women and men to "know thine enemy." Lucidly argued, concise and thorough, Woe to the Women documents the bible's punitive, antediluvian rules and attitudes toward women.
It exposes the bible's harmful stereotypes about women as sin-inciting temptresses and their treatment as male property. This exposé examines biblical teachings about women's "nature," prostitution, sexual assault and incest, so-called uncleanliness, marriage, motherhood, divorce and adultery, grooming, abortion, and homosexuality, as well as "macho" standards for men.
Woe to the Women—The Bible Tells Me So is an essential guide for the reader who is too busy (or too non-masochistic) to study the bible.
Hardcover, 264 pages.
$15 Now $10
Sales price without tax
$10.00
Due to the COVID-19 pandemic, order fulfillment will be delayed. Thank you for your patience, and stay well!
Minimum purchase amount is $5. Prices include domestic shipping and handling costs. For international orders please call 1 (800) 335-4021
FFRF is a not-for-profit charitable organization, not a retail business. We strive to make purchases easy and worry-free. Our "Make it Right" policy means that if you are not 100% satisfied with our products, just This email address is being protected from spambots. You need JavaScript enabled to view it. or call 608-256-8900 and we will work with you. FFRF makes every effort to fulfill orders accurately, and works to meet the expectations of our customers whenever possible. However, discounts, promotions, and bonus items are subject to availability, and may be discontinued at any time. Contact us regarding discounts on large orders, special requests, international orders, and costs for UPS or overnight delivery. Please note that items qualifying for U.S.P.S. media mail services (books, CDs, DVDs) may be sent separately and can take up to 10 days to arrive.