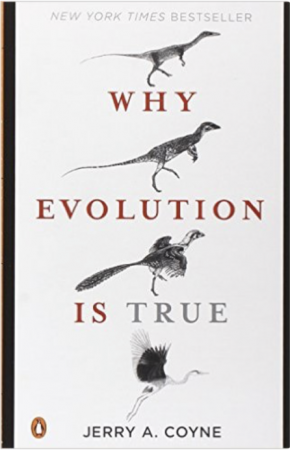 Why Evolution Is True
By Jerry Coyne
In the current debate about creationism and intelligent design, there is an element of the controversy that is rarely mentioned—the evidence. Yet the proof of evolution by natural selection is vast, varied, and magnificent. In this succinct and accessible summary of the facts supporting the theory of natural selection, Jerry A. Coyne dispels common misunderstandings and fears about evolution and clearly confirms the scientific truth that supports this amazing process of change. Weaving together the many threads of modern work in genetics, paleontology, geology, molecular biology, and anatomy that demonstrate the "indelible stamp" of the processes first proposed by Darwin, Why Evolution Is True does not aim to prove creationism wrong. Rather, by using irrefutable evidence, it sets out to prove evolution right.

Professor Jerry Coyne is a FFRF Honorary Director.
Paperback, 282 pages.
Sales price without tax
$15.00
Due to the COVID-19 pandemic order fulfillment may be delayed. Thank you for your patience!
Minimum purchase amount is $5.00. Prices include domestic shipping and handling costs. For international orders please call 1 (800) 335-4021
Proceeds support FFRF's unparalleled nonprofit advocacy to promote freethought and keep religion out of U.S. laws and social policy. FFRF is a not-for-profit charitable organization, not a retail business. We strive to make purchases easy and worry-free. Our "Make it Right" policy means that if you are not 100% satisfied with our products, just CONTACT US or call 608-256-8900 and we will work with you. FFRF makes every effort to fulfill orders accurately, and works to meet the expectations of our customers whenever possible. However, discounts, promotions, and bonus items are subject to availability, and may be discontinued at any time. Contact us regarding discounts on large orders, special requests, international orders, and costs for UPS or overnight delivery. Please note that items qualifying for U.S.P.S. media mail services (books, CDs, DVDs) may be sent separately and can take up to 10 days to arrive.