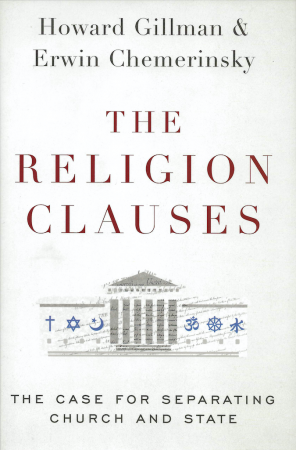 The Religion Clauses
The Case for Separating Church and State
By Erwin Chemerinsky and Howard Gillman
Erwin Chemerinsky is Dean and Jesse H. Choper Distinguished Professor of Law at the University of California, Berkeley School of Law. Howard Gillman is chancellor of the University of California, Irvine and holds faculty appointments in the School of Law and the Departments of Political Science, History, and Criminology, Law and Society. Together they write about American history and the proper relationship between the state and religion.
After examining all the major approaches to the meaning of the Constitution's religion clauses, they contend that the best approaches are for the government to be strictly secular and for there to be no special exemptions for religious people from neutral and general laws that others must obey.
Hardcover, 240 pages.
Sales price without tax
$25.00
Due to the COVID-19 pandemic order fulfillment may be delayed. Thank you for your patience!
Minimum purchase amount is $5.00. Prices include domestic shipping and handling costs. For international orders please call 1 (800) 335-4021
Proceeds support FFRF's unparalleled nonprofit advocacy to promote freethought and keep religion out of U.S. laws and social policy. FFRF is a not-for-profit charitable organization, not a retail business. We strive to make purchases easy and worry-free. Our "Make it Right" policy means that if you are not 100% satisfied with our products, just CONTACT US or call 608-256-8900 and we will work with you. FFRF makes every effort to fulfill orders accurately, and works to meet the expectations of our customers whenever possible. However, discounts, promotions, and bonus items are subject to availability, and may be discontinued at any time. Contact us regarding discounts on large orders, special requests, international orders, and costs for UPS or overnight delivery. Please note that items qualifying for U.S.P.S. media mail services (books, CDs, DVDs) may be sent separately and can take up to 10 days to arrive.