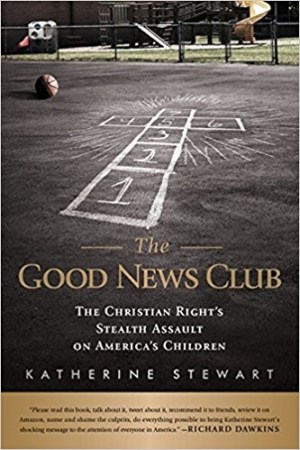 The Good News Club
-Revised
The Christian Right's Stealth Assault on America's Children.
By Katherine Stewart.
In 2009, the Good News Club came to the public elementary school where journalist Katherine Stewart sent her children. The Club, which is sponsored by the Child Evangelism Fellowship, bills itself as an after-school program of Bible study. But Stewart soon discovered that the Club's real mission is to convert children to fundamentalist Christianity and encourage them to proselytize to their unchurched peers, all the while promoting the natural but false impression among the children that its activities are endorsed by the school.
Astonished to discover that the U.S. Supreme Court has deemed this—and other forms of religious activity in public schools—legal, Stewart set off on an investigative journey to dozens of cities and towns across the nation to document the impact. In this book she demonstrates that there is more religion in America's public schools today than there has been for the past 100 years. The movement driving this agenda is stealthy. It is aggressive. It has our children in its sights. And its ultimate aim is to destroy the system of public education as we know it.
Paperback, 288 pages.
Sales price without tax
$15.00
Due to the COVID-19 pandemic, order fulfillment will be delayed. Thank you for your patience, and stay well!
Minimum purchase amount is $5. Prices include domestic shipping and handling costs. For international orders please call 1 (800) 335-4021
FFRF is a not-for-profit charitable organization, not a retail business. We strive to make purchases easy and worry-free. Our "Make it Right" policy means that if you are not 100% satisfied with our products, just CONTACT US or call 608-256-8900 and we will work with you. FFRF makes every effort to fulfill orders accurately, and works to meet the expectations of our customers whenever possible. However, discounts, promotions, and bonus items are subject to availability, and may be discontinued at any time. Contact us regarding discounts on large orders, special requests, international orders, and costs for UPS or overnight delivery. Please note that items qualifying for U.S.P.S. media mail services (books, CDs, DVDs) may be sent separately and can take up to 10 days to arrive.