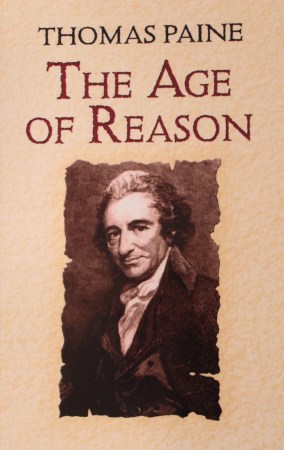 The Age Of Reason
By Thomas Paine
Thomas Paine declared: Of all the tyrannies that affect mankind, tyranny in religion is the worst. Paine's years of study and reflection on the role of religion in society culminated with his final work, The Age of Reason. This coolly reasoned polemic influenced religious thinking throughout the world at the dawn of the nineteenth century, and its resonance remains undiminished by time.
The selfsame humanist and egalitarian views that made Paine a popular figure of the American Revolution brought him into frequent conflict with political authorities. Parts of The Age of Reason were written in a French jail, where Paine was confined for his opposition to the execution of Louis XVI.
The Age of Reason is a classic of free thought.
Paperback, 208 pages.
Sales price without tax
$9.00
Due to the COVID-19 pandemic order fulfillment may be delayed. Thank you for your patience!
Minimum purchase amount is $5.00. Prices include domestic shipping and handling costs. For international orders please call 1 (800) 335-4021
Proceeds support FFRF's unparalleled nonprofit advocacy to promote freethought and keep religion out of U.S. laws and social policy. FFRF is a not-for-profit charitable organization, not a retail business. We strive to make purchases easy and worry-free. Our "Make it Right" policy means that if you are not 100% satisfied with our products, just CONTACT US or call 608-256-8900 and we will work with you. FFRF makes every effort to fulfill orders accurately, and works to meet the expectations of our customers whenever possible. However, discounts, promotions, and bonus items are subject to availability, and may be discontinued at any time. Contact us regarding discounts on large orders, special requests, international orders, and costs for UPS or overnight delivery. Please note that items qualifying for U.S.P.S. media mail services (books, CDs, DVDs) may be sent separately and can take up to 10 days to arrive.