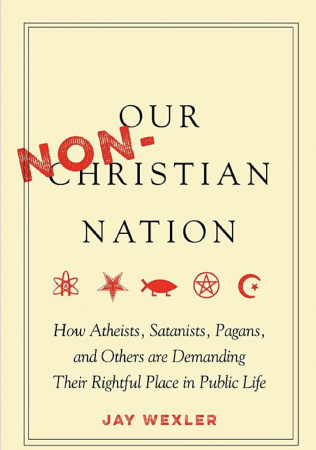 Our Non-Chrisitan Nation
How Atheists, Satanists, Pagans, and Others are Demanding Their Rightful Place in Public Life
By Jay Wexler
NEW!
In Our Non-Christian Nation, Jay Wexler travels the country to engage the non-Christians who have called on us to maintain our ideals of inclusivity and diversity. With his characteristic sympathy and humor, he introduces us to a Wiccan priestess and other determined champions of free religious expression.
Hardcover, 216 pages.
Sales price without tax
$25.00
FFRF is a not-for-profit charitable organization, not a retail business. We strive to make purchases easy and worry-free. Our "Make it Right" policy means that if you are not 100% satisfied with our products, just CONTACT US or call 608-256-8900 and we will work with you. Also, contact us regarding discounts on large orders, special requests, and costs for UPS or overnight delivery. We typically process orders within 24 hours.