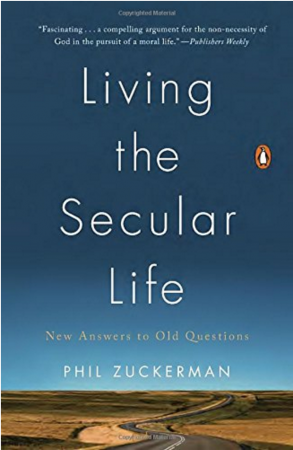 Living the Secular Life
New Answers to Old Questions
By Phil Zuckerman
Over the last 25 years, no religion has become the fastest-growing religious preference in the United States: today, 3O percent of americans embrace nonreligious - or secular - lives. In Living the Secular Life, sociologist Phil Zuckerman pairs eye-opening research with real stories on nonreligious men and women from across the country to illuminate this important demographic shift. Despite opinions to the contrary, he cites abundant evidence that secular Americans are every bit as capable as their religious neighbors of raising deeply moral children, building strong communities, and grappling meaningfully with the big questions of life and death. Zuckerman identifies the virtues of spiritual self-reliance, clear-eyed pragmatism, and an abiding faith in the Golden Rule as the basis for a unique moral code shared across secular society, and he offers ways for readers to integrate these beliefs into their own lives.
A manifesto for a booming social movement- and a revelatory survey of an overlooked community- Living the Secular Life provides essential information for anyone building a life on her or his own principles.
Paperback, 276 pages.
Sales price without tax
$17.00
Due to the COVID-19 pandemic order fulfillment may be delayed. Thank you for your patience!
Minimum purchase amount is $5.00. Prices include domestic shipping and handling costs. For international orders please call 1 (800) 335-4021
Proceeds support FFRF's unparalleled nonprofit advocacy to promote freethought and keep religion out of U.S. laws and social policy. FFRF is a not-for-profit charitable organization, not a retail business. We strive to make purchases easy and worry-free. Our "Make it Right" policy means that if you are not 100% satisfied with our products, just CONTACT US or call 608-256-8900 and we will work with you. FFRF makes every effort to fulfill orders accurately, and works to meet the expectations of our customers whenever possible. However, discounts, promotions, and bonus items are subject to availability, and may be discontinued at any time. Contact us regarding discounts on large orders, special requests, international orders, and costs for UPS or overnight delivery. Please note that items qualifying for U.S.P.S. media mail services (books, CDs, DVDs) may be sent separately and can take up to 10 days to arrive.