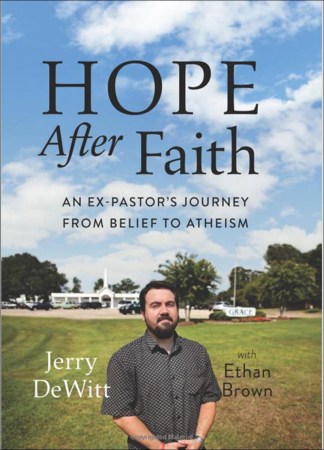 Hope After Faith
An Ex-Pastor's Journey From Belief to Atheism
By Jerry DeWitt, with Ethan Brown.
Atheism's leading lights have long been intellectuals raised in the secular and academic worlds: Richard Dawkins, Sam Harris, and the late Christopher Hitchens. By contrast, Jerry DeWitt was born and bred into the church and was in fact a Pentecostal preacher before arriving at atheism through an extraordinary dialogue with faith that spanned more than a quarter of a century. Hope After Faith is his account of that journey.
DeWitt's struggle for identity and meaning mirrors the one currently facing millions of people around the world. With both agnosticism and atheism entering the mainstream—one in five Americans now claim no religious affiliation, according to a recent study—the moment has arrived for a new atheist voice, one that is respectful of faith and religious traditions yet warmly embraces a life free of religion, finding not skepticism and cold doubt but rather profound meaning and hope. Hope After Faith is the story of one man's evolution toward a committed and considered atheism, one driven by humanism, a profound moral dimension, and a happiness and self-confidence obtained through living free of fear.
Hardcover, 279 pages.
Sales price without tax
$18.00
FFRF is a not-for-profit charitable organization, not a retail business. We strive to make purchases easy and worry-free. Our "Make it Right" policy means that if you are not 100% satisfied with our products, just CONTACT US or call 608-256-8900 and we will work with you. Also, contact us regarding discounts on large orders, special requests, and costs for UPS or overnight delivery. We typically process orders within 24 hours.