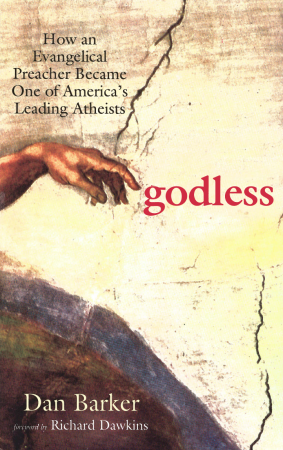 Godless
How an Evangelical Preacher Became One of America's Leading Atheists
By Dan Barker
Foreword by Richard Dawkins
After 19 years as an evangelical preacher, missionary, and Christian songwriter, Dan Barker 'threw out the bathwater and discovered there is no baby there.' Barker describes the intellectual and psychological path he followed in moving from fundamentalism to freethought. This book is split into four sections that explain problems with the bible. Barker also relates the positive benefits from trusting in reason and human kindness instead of living in fear of false judgment and moral condemnation. Godless expands the story told in Dan's 1992 book, Losing Faith in Faith.
Autographed!
Paperback, 376 pages.
**Author donates royalties for sales of this book to FFRF
Sales price without tax
$15.00
Due to the COVID-19 pandemic, order fulfillment will be delayed. Thank you for your patience, and stay well!
Minimum purchase amount is $5. Prices include domestic shipping and handling costs. For international orders please call 1 (800) 335-4021
FFRF is a not-for-profit charitable organization, not a retail business. We strive to make purchases easy and worry-free. Our "Make it Right" policy means that if you are not 100% satisfied with our products, just This email address is being protected from spambots. You need JavaScript enabled to view it. or call 608-256-8900 and we will work with you. FFRF makes every effort to fulfill orders accurately, and works to meet the expectations of our customers whenever possible. However, discounts, promotions, and bonus items are subject to availability, and may be discontinued at any time. Contact us regarding discounts on large orders, special requests, international orders, and costs for UPS or overnight delivery. Please note that items qualifying for U.S.P.S. media mail services (books, CDs, DVDs) may be sent separately and can take up to 10 days to arrive.