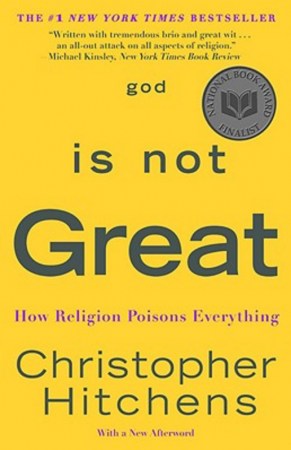 God is Not Great
How Religion Poisons Everything
By Christopher Hitchens
Christopher Hitchens is a late FFRF Honorary Director.c
With his unique brand of erudition and wit, Christopher Hitchens addresses the most urgent issue of our time: the malignant for of religion in the world. In this eloquent argument with the faithful, he makes the ultimate case against dogma (and for a more secular approach to life) through a close and learned reading of the major theological texts. Hitchens tells the personal story of his own dangerous encounters with religion and describes his intellectual journey toward a secular view of life based on science and reason. Whether you're a lifelong believer, a devout atheist, or someone who remains uncertain about the role of religion in our lives, this insightful book will engage you with its provocative ideas.
Paperback, 336 pages.
Sales price without tax
$16.00
FFRF is a not-for-profit charitable organization, not a retail business. We strive to make purchases easy and worry-free. Our "Make it Right" policy means that if you are not 100% satisfied with our products, just CONTACT US or call 608-256-8900 and we will work with you. Also, contact us regarding discounts on large orders, special requests, and costs for UPS or overnight delivery. We typically process orders within 24 hours.