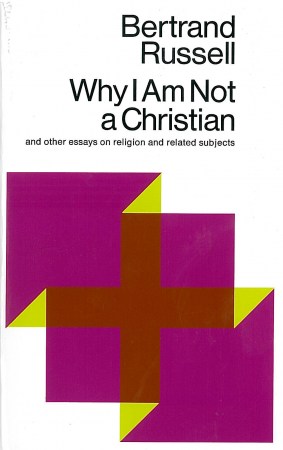 Why I Am Not a Christian
By Bertrand Russell
Devastating in its use of cold logic -The Independent. The classic essay collection that expresses the freethinker's views to religion and challenges set notions in today's society from one of the most influential intellectual figures of the twentieth century.
Dedicated as few men have been to the life of reason, Bertrand Russell has always been concerned with the basic questions to which religion also addresses itself—questions about man's place in the universe and the nature of the good life, questions that involve life after death, morality, freedom, education, and sexual ethics. He brings to his treatment of these questions the same courage, scrupulous logic, and lofty wisdom for which his other work as philosopher, writer, and teacher has been famous. These qualities make the essays included in this book perhaps the most graceful and moving presentation of the freethinker's position since the days of Hume and Voltaire.
Paperback, 266 pages.
Sales price without tax
$16.00
Due to the COVID-19 pandemic order fulfillment may be delayed. Thank you for your patience!
Minimum purchase amount is $5.00. Prices include domestic shipping and handling costs. For international orders please call 1 (800) 335-4021
Proceeds support FFRF's unparalleled nonprofit advocacy to promote freethought and keep religion out of U.S. laws and social policy. FFRF is a not-for-profit charitable organization, not a retail business. We strive to make purchases easy and worry-free. Our "Make it Right" policy means that if you are not 100% satisfied with our products, just CONTACT US or call 608-256-8900 and we will work with you. FFRF makes every effort to fulfill orders accurately, and works to meet the expectations of our customers whenever possible. However, discounts, promotions, and bonus items are subject to availability, and may be discontinued at any time. Contact us regarding discounts on large orders, special requests, international orders, and costs for UPS or overnight delivery. Please note that items qualifying for U.S.P.S. media mail services (books, CDs, DVDs) may be sent separately and can take up to 10 days to arrive.