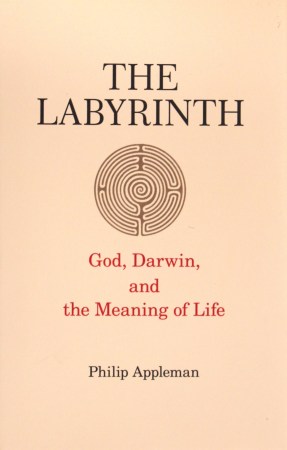 The Labyrinth
God, Darwin and the Meaning of Life.
By Philip Appleman
Have you wondered where we came from or whether there is a god? And if so, why there is so much evil and turmoil in the world? Have you pondered the notion of an afterlife? And what role it has in determining our behavior while alive?
Philip Appleman sagely and eloquently addresses these questions, putting them in the illuminating context of our evolutionary development and cultural history. Twenty-first century thinkers, reflecting on the long and horrendous history of religious wars and atrocities, are no longer willing to pay the traditional deference to religious authority, preferring instead to seek inside their own lives, thoughts, and action for the answers to life's greatest questions. Appleman concludes that a life well lived, short as it is in the eons of our planet's existence, is its own reward.
Hard Cover, 72 pages.
Was $12.00. Available while supplies last.
Sales price without tax
$10.00
Due to the COVID-19 pandemic order fulfillment may be delayed. Thank you for your patience!
Minimum purchase amount is $5.00. Prices include domestic shipping and handling costs. For international orders please call 1 (800) 335-4021
Proceeds support FFRF's unparalleled nonprofit advocacy to promote freethought and keep religion out of U.S. laws and social policy. FFRF is a not-for-profit charitable organization, not a retail business. We strive to make purchases easy and worry-free. Our "Make it Right" policy means that if you are not 100% satisfied with our products, just CONTACT US or call 608-256-8900 and we will work with you. FFRF makes every effort to fulfill orders accurately, and works to meet the expectations of our customers whenever possible. However, discounts, promotions, and bonus items are subject to availability, and may be discontinued at any time. Contact us regarding discounts on large orders, special requests, international orders, and costs for UPS or overnight delivery. Please note that items qualifying for U.S.P.S. media mail services (books, CDs, DVDs) may be sent separately and can take up to 10 days to arrive.