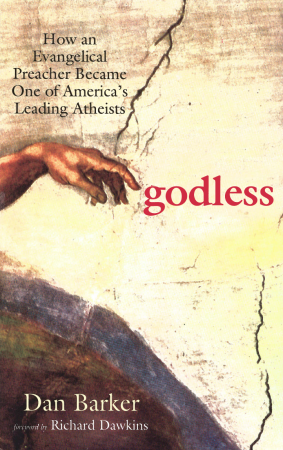 Godless
How an Evangelical Preacher Became One of America's Leading Atheists
By Dan Barker.
Foreword by Richard Dawkins.
Autographed
After 19 years as an evangelical preacher, missionary, and Christian songwriter, Dan Barker 'threw out the bathwater and discovered there is no baby there.' Barker describes the intellectual and psychological path he followed in moving from fundamentalism to freethought. The four sections in Godless--Rejecting God, Why I Am An Atheist, What's Wrong With Christianity, and Life is Good!--include chapters on bible problems, the historicity of Jesus, morality, the Kalam Cosmological argument, the unbelievable resurrection, and much more. Barker relates the positive benefits from trusting in reason and human kindness instead of living in fear of false judgment and moral condemnation. Godless expands the story told in Dan's 1992 book, Losing Faith in Faith--the two books overlap about 20 percent...but a lot has happened in 16 years, and Dan updates the story with four new chapters, including 'The New Call' (lessons from the debate circuit), 'Adventures in Atheism,' and 'We Go To Washington' (FFRF's Supreme Court lawsuit, in which Dan was a plaintiff).
Paperback, 376 pages.
Sales price without tax
$15.00
FFRF is a not-for-profit charitable organization, not a retail business. We strive to make purchases easy and worry-free. Our "Make it Right" policy means that if you are not 100% satisfied with our products, just CONTACT US or call 608-256-8900 and we will work with you. Also, contact us regarding discounts on large orders, special requests, and costs for UPS or overnight delivery. We typically process orders within 24 hours.