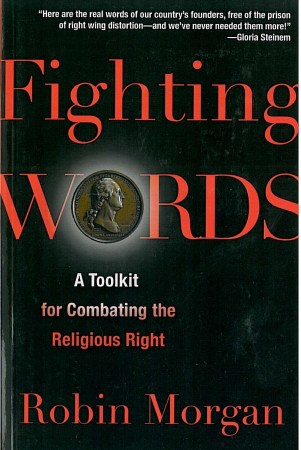 Fighting Words
A Toolkit for Combating The Religious Right
By Robin Morgan
The religious right is gaining enormous power in the United States, thanks to a well-organized, media-savvy movement with powerful friends in high places. Yet many Americans — both observant and secular — are alarmed by this trend, especially by the religious right's attempts to erase the boundary between church and state and re-make the U.S. into a Christian nation. But most Americans lack the tools for arguing with the religious right, especially when fundamentalist conservatives claim their tradition started with the Framers of The Constitution.
Fighting Words is a a tool-kit for arguing, especially for those of us who haven't read the founding documents of this nation since grade school. Robin Morgan has assembled a lively, accessible, eye-opening primer and reference tool, a "verbal karate" guide, revealing what the Framers and many other leading Americans really believed — in their own words — rescuing the Founders from images of dusty, pompous old men in powdered wigs, and resurrecting them as the revolutionaries they truly were: a hodgepodge of freethinkers, Deists, agnostics, Christians, atheists, and Freemasons — and they were radicals as well.
Robin Morgan is a FFRF Honorary Director.
Paperback, 146 pages.
Sales price without tax
$18.00
Due to the COVID-19 pandemic, order fulfillment will be delayed. Thank you for your patience, and stay well!
Minimum purchase amount is $5. Prices include domestic shipping and handling costs. For international orders please call 1 (800) 335-4021
FFRF is a not-for-profit charitable organization, not a retail business. We strive to make purchases easy and worry-free. Our "Make it Right" policy means that if you are not 100% satisfied with our products, just This email address is being protected from spambots. You need JavaScript enabled to view it. or call 608-256-8900 and we will work with you. FFRF makes every effort to fulfill orders accurately, and works to meet the expectations of our customers whenever possible. However, discounts, promotions, and bonus items are subject to availability, and may be discontinued at any time. Contact us regarding discounts on large orders, special requests, international orders, and costs for UPS or overnight delivery. Please note that items qualifying for U.S.P.S. media mail services (books, CDs, DVDs) may be sent separately and can take up to 10 days to arrive.