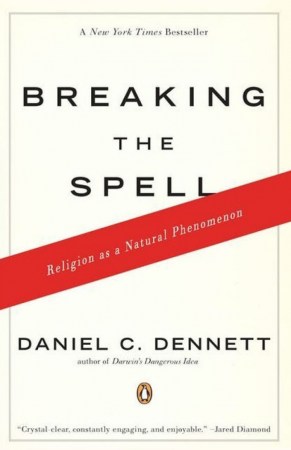 Breaking the Spell
Religion as Natural Phenomenon
By Daniel Dennett
Professor Daniel Dennett is a FFRF Honorary Director.
Religion has elicited the best and worst in the human character, from selflessness to fanaticism. But until now few boos have tried to investigate it in a scientific manner. Breaking the Spell is the daring and -inevitably- controversial exception. Ranging through biology, history, and psychology, Daniel Dennett asks: Is religion a product of blind evolutionary instinct or rational choice? Is it truly the best way to live a moral life? Is religion good for you? Not an antireligious screed bud an unblinking look beneath the veil of orthodoxy, the result is essential reading for believers and skeptics alike.

Paperback, 448 pages.
Sales price without tax
$19.00
FFRF is a not-for-profit charitable organization, not a retail business. We strive to make purchases easy and worry-free. Our "Make it Right" policy means that if you are not 100% satisfied with our products, just CONTACT US or call 608-256-8900 and we will work with you. Also, contact us regarding discounts on large orders, special requests, and costs for UPS or overnight delivery. We typically process orders within 24 hours.