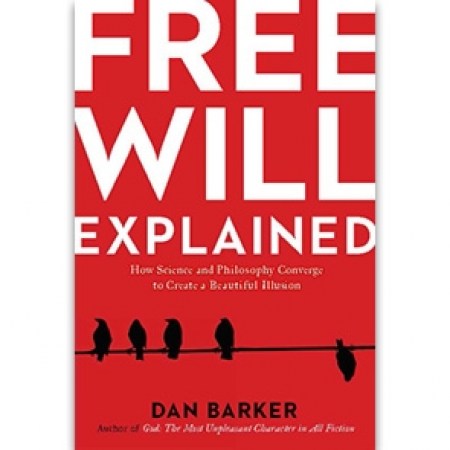 Free Will Explained
How Science and Philosophy Converge to Create a Beautiful Illusion
By Dan Barker
Do we have free will? And if we don't, why do we think we do? Scientists and philosophers have been battling with this issue for years. In this compelling book, a former Christian minister who is now an internationally recognized authority on atheism addresses these questions.
Dan Barker (author of God: The Most Unpleasant Character in All Fiction) suggests a different way of looking at free will. He proposes an understanding of free will that turns it sideways and makes the paradox disappear. As a jazz pianist, he posits that if we can view the world more like jazz than classical music, we will see "free will" as a beautiful improvisation of the human species. He calls it harmonic free will.
"You don't have to be an expert to notice that the experts disagree about free will," writes Barker. "Some of them are like feuding theologians. I'm staying out of that boxing match...By stepping outside the ring and looking at it from a fresh angle, from a jazz angle, we can make the whole debate disappear." Forward by Michael Shermer. Autographed by the author (only available online here)! All royalties for this book purchased here are donated to FFRF.
Paperback. 138 pages.
**Author donates royalties for sales of this book to FFRF
Sales price without tax
$12.00
Due to the COVID-19 pandemic order fulfillment may be delayed. Thank you for your patience!
Minimum purchase amount is $5.00. Prices include domestic shipping and handling costs. For international orders please call 1 (800) 335-4021
Proceeds support FFRF's unparalleled nonprofit advocacy to promote freethought and keep religion out of U.S. laws and social policy. FFRF is a not-for-profit charitable organization, not a retail business. We strive to make purchases easy and worry-free. Our "Make it Right" policy means that if you are not 100% satisfied with our products, just CONTACT US or call 608-256-8900 and we will work with you. FFRF makes every effort to fulfill orders accurately, and works to meet the expectations of our customers whenever possible. However, discounts, promotions, and bonus items are subject to availability, and may be discontinued at any time. Contact us regarding discounts on large orders, special requests, international orders, and costs for UPS or overnight delivery. Please note that items qualifying for U.S.P.S. media mail services (books, CDs, DVDs) may be sent separately and can take up to 10 days to arrive.