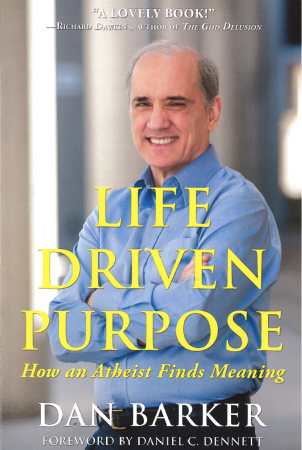 Life Driven Purpose
How an Atheist Finds Meaning
By Dan Barker
Every thinking person wants to lead a life of meaning and purpose. For thousands of years, holy books have told us that such a life is available only through obedience and submission to some higher power. Today, the faithful keep popular devotionals and tracts within easy reach on bedside tables and mobile devices, all communicating this common message: Life is meaningless without God. In this volume, former pastor Dan Barker eloquently, powerfully, and rationally upends this long-held belief. Offering words of enrichment, emancipation, and inspiration he reminds us how millions of atheists lead happy, loving, moral, and purpose-filled lives. Practicing what he preaches, he also demonstrates through his own personal journey that life is valuable for its own sake - that meaning and purpose come not from above, but from within.
Paperback, 216 pages.
**Author donates royalties for sales of this book to FFRF
Sales price without tax
$20.00
Due to the COVID-19 pandemic, order fulfillment will be delayed. Thank you for your patience, and stay well!
Minimum purchase amount is $5. Prices include domestic shipping and handling costs. For international orders please call 1 (800) 335-4021
FFRF is a not-for-profit charitable organization, not a retail business. We strive to make purchases easy and worry-free. Our "Make it Right" policy means that if you are not 100% satisfied with our products, just This email address is being protected from spambots. You need JavaScript enabled to view it. or call 608-256-8900 and we will work with you. FFRF makes every effort to fulfill orders accurately, and works to meet the expectations of our customers whenever possible. However, discounts, promotions, and bonus items are subject to availability, and may be discontinued at any time. Contact us regarding discounts on large orders, special requests, international orders, and costs for UPS or overnight delivery. Please note that items qualifying for U.S.P.S. media mail services (books, CDs, DVDs) may be sent separately and can take up to 10 days to arrive.