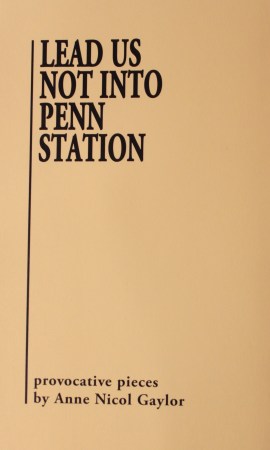 Lead Us Not Into Penn Station
By Anne Nicol Gaylor
This handy publication with photographs throughout commemorates the 28-year tenure as president of FFRF's founder, Anne Gaylor. A must-have for any freethinker, this gracefully readable book contains Gaylor's classic writings.
She succinctly demolishes the Ten Commandments ("What's Wrong with the Ten Commandments"), the myth of a loving Jesus ("Was Jesus a Horse Thief?"), the bible's sanction of slavery ("Slavery: 'A Trust from God' "), and documents "Hitler's Religion."
Lead Us Not Into Penn Station offers affectionate profiles of freethinking pioneers such as Robert G. Ingersoll and Margaret Sanger, and goes after religious sacred cows, such as bible-belt journalism, Christian funerals, and the death penalty.
A personal and appealing introduction to nonbelief, reason-based ethics and timely state/church issues by one of the nation's leading freethought activists. A bonus: Anne's memorable expose of her experience on the "Phil Donahue Show" in the late 1970s ("Shrill! Abrasive! Acerbic! Inflammatory!").
Paperback, 80 pages.
Sales price without tax
$5.00
FFRF is a not-for-profit charitable organization, not a retail business. We strive to make purchases easy and worry-free. Our "Make it Right" policy means that if you are not 100% satisfied with our products, just CONTACT US or call 608-256-8900 and we will work with you. Also, contact us regarding discounts on large orders, special requests, and costs for UPS or overnight delivery. We typically process orders within 24 hours.