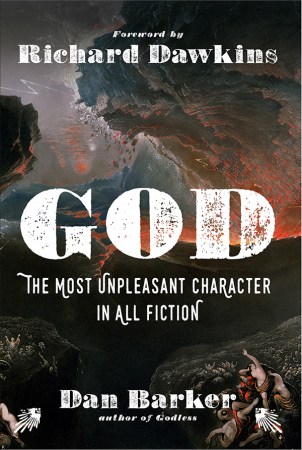 God (DISCONTINUED)
The Most Unpleasant Character in All Fiction
By Dan Barker.
Foreword by Richard Dawkins.
Autographed!
English ethologist, evolutionary biologist, and writer Richard Dawkins opens Chapter 2 of his New York Times bestseller The God Delusion by saying that the God of the Old Testament is "arguably the most unpleasant character in all fiction" and goes on to list nineteen negative character traits. Now, in God: The Most Unpleasant Character in All Fiction, Dan Barker, a former ordained minister and current atheist, proves that Dawkins was right.
God: The Most Unpleasant Character in All Fiction contains verses from all thirty-nine books of the Old Testament. In Part I, "Dawkins was right," Barker begins each chapter with his own commentary on one or two biblical stories that Barker and Dawkins have chosen to illustrate a characteristic on the list. A series of selected verses (and sometimes Barker's personal remarks) follow. Part II, "Dawkins was too kind," ends the book with eight chapters that expand on the original list as well as a final chapter that extends the list into the New Testament.
Dan Barker describes the book on YouTube.
Hardcover, 310 pages.
Only A Few Left!
Sales price without tax
$23.00
Due to the COVID-19 pandemic, order fulfillment will be delayed. Thank you for your patience, and stay well!
Minimum purchase amount is $5. Prices include domestic shipping and handling costs. For international orders please call 1 (800) 335-4021
FFRF is a not-for-profit charitable organization, not a retail business. We strive to make purchases easy and worry-free. Our "Make it Right" policy means that if you are not 100% satisfied with our products, just This email address is being protected from spambots. You need JavaScript enabled to view it. or call 608-256-8900 and we will work with you. FFRF makes every effort to fulfill orders accurately, and works to meet the expectations of our customers whenever possible. However, discounts, promotions, and bonus items are subject to availability, and may be discontinued at any time. Contact us regarding discounts on large orders, special requests, international orders, and costs for UPS or overnight delivery. Please note that items qualifying for U.S.P.S. media mail services (books, CDs, DVDs) may be sent separately and can take up to 10 days to arrive.