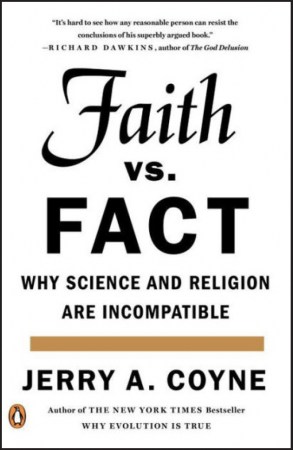 Faith VS Fact
Why Science And Religion Are Incompatible
By Jerry Coyne
In this provocative book, evolutionary biologist Jerry A. Coyne lays out in clear, dispassionate detail why the toolkit of science, based on reason and empirical study, is reliable, while that of religion - including faith, dogma, and revelation - leads to incorrect, untestable, or conflicting conclusions.
Coyne is responding to a national climate in which more than half of Americans don't believe in evolution, members of Congress deny global warming, and long-conquered childhood diseases are reappearing because of religious objections to inoculation. Religious prejudices in politics, education, medicine, and social policy are on the rise. Extending the bestselling works of Richard Dawkins, Daniel Dennett, and Christopher Hitchens, Coyne demolishes the claims of religion to provide verifiable "truth" by subjecting those claims to the same tests we use to establish truth in science.
Coyne irrefutable demonstrates the grave harm - to individuals and to our planet - in mistaking faith for fact when making the most important decisions about the world we live in.
Professor Jerry Coyne is a FFRF Honorary Director.
Paperback, 311 pages.
Sales price without tax
$20.00
Due to the COVID-19 pandemic order fulfillment may be delayed. Thank you for your patience!
Minimum purchase amount is $5.00. Prices include domestic shipping and handling costs. For international orders please call 1 (800) 335-4021
Proceeds support FFRF's unparalleled nonprofit advocacy to promote freethought and keep religion out of U.S. laws and social policy. FFRF is a not-for-profit charitable organization, not a retail business. We strive to make purchases easy and worry-free. Our "Make it Right" policy means that if you are not 100% satisfied with our products, just CONTACT US or call 608-256-8900 and we will work with you. FFRF makes every effort to fulfill orders accurately, and works to meet the expectations of our customers whenever possible. However, discounts, promotions, and bonus items are subject to availability, and may be discontinued at any time. Contact us regarding discounts on large orders, special requests, international orders, and costs for UPS or overnight delivery. Please note that items qualifying for U.S.P.S. media mail services (books, CDs, DVDs) may be sent separately and can take up to 10 days to arrive.