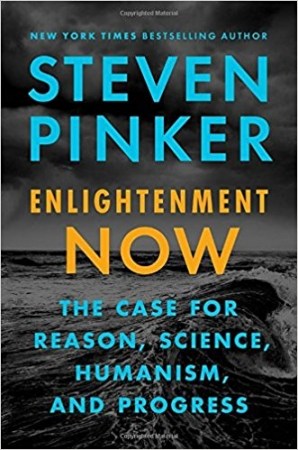 Enlightenment Now
The Case for Reason, Science, Humanism, and Progress
By Steven Pinker
The follow-up to Pinker's groundbreaking The Better Angels of Our Nature presents the big picture of human progress: people are living longer, healthier, freer, and happier lives, and while our problems are formidable, the solutions lie in the Enlightenment ideal of using reason and science.
Is the world really falling apart? Is the ideal of progress obsolete? In this elegant assessment of the human condition in the third millennium, cognitive scientist and public intellectual Steven Pinker urges us to step back from the gory headlines and prophecies of doom, which play to our psychological biases. Instead, follow the data: In seventy-five jaw-dropping graphs, Pinker shows that life, health, prosperity, safety, peace, knowledge, and happiness are on the rise, not just in the West, but worldwide. This progress is not the result of some cosmic force. It is a gift of the Enlightenment: the conviction that reason and science can enhance human flourishing.
Far from being a naïve hope, the Enlightenment, we now know, has worked. But more than ever, it needs a vigorous defense. The Enlightenment project swims against currents of human nature--tribalism, authoritarianism, demonization, magical thinking--which demagogues are all too willing to exploit. Many commentators, committed to political, religious, or romantic ideologies, fight a rearguard action against it. The result is a corrosive fatalism and a willingness to wreck the precious institutions of liberal democracy and global cooperation. With intellectual depth and literary flair, Enlightenment Now makes the case for reason, science, and humanism: the ideals we need to confront our problems and continue our progress.
Steven Pinker is a FFRF Honorary President.
Paperback, 556 pages.
Sales price without tax
$18.00
Due to the COVID-19 pandemic order fulfillment may be delayed. Thank you for your patience!
Minimum purchase amount is $5.00. Prices include domestic shipping and handling costs. For international orders please call 1 (800) 335-4021
Proceeds support FFRF's unparalleled nonprofit advocacy to promote freethought and keep religion out of U.S. laws and social policy. FFRF is a not-for-profit charitable organization, not a retail business. We strive to make purchases easy and worry-free. Our "Make it Right" policy means that if you are not 100% satisfied with our products, just CONTACT US or call 608-256-8900 and we will work with you. FFRF makes every effort to fulfill orders accurately, and works to meet the expectations of our customers whenever possible. However, discounts, promotions, and bonus items are subject to availability, and may be discontinued at any time. Contact us regarding discounts on large orders, special requests, international orders, and costs for UPS or overnight delivery. Please note that items qualifying for U.S.P.S. media mail services (books, CDs, DVDs) may be sent separately and can take up to 10 days to arrive.