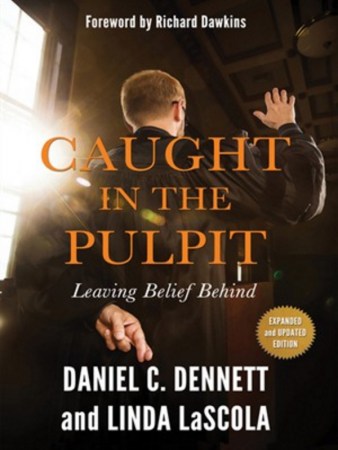 Caught in the Pulpit
Leaving Behind Belief
By Daniel C. Dennett and Linda LaScola
What is it like to be a preacher or rabbi who no longer believes in God? In this expanded and updated edition of their groundbreaking study, Daniel C. Dennett and Linda LaScola comprehensively and sensitively expose an inconvenient truth that religious institutions face in the new transparency of the information age—the phenomenon of clergy who no longer believe what they publicly preach. In confidential interviews, clergy from across the ministerial spectrum—from liberal to literal—reveal how their lives of religious service and study have led them to a truth inimical to their professed beliefs and profession. Although their personal stories are as varied as the denominations they once represented, or continue to represent—whether Catholic, Baptist, Episcopalian, Methodist, Mormon, Pentecostal, or any of numerous others—they give voice not only to their own struggles but also to those who similarly suffer in tender and lonely silence. As this study poignantly and vividly reveals, their common journey has far-reaching implications not only for their families, their congregations, and their communities—but also for the very future of religion.
Paperback, 280 pages.
Sales price without tax
$20.00
Due to the COVID-19 pandemic order fulfillment may be delayed. Thank you for your patience!
Minimum purchase amount is $5.00. Prices include domestic shipping and handling costs. For international orders please call 1 (800) 335-4021
Proceeds support FFRF's unparalleled nonprofit advocacy to promote freethought and keep religion out of U.S. laws and social policy. FFRF is a not-for-profit charitable organization, not a retail business. We strive to make purchases easy and worry-free. Our "Make it Right" policy means that if you are not 100% satisfied with our products, just CONTACT US or call 608-256-8900 and we will work with you. FFRF makes every effort to fulfill orders accurately, and works to meet the expectations of our customers whenever possible. However, discounts, promotions, and bonus items are subject to availability, and may be discontinued at any time. Contact us regarding discounts on large orders, special requests, international orders, and costs for UPS or overnight delivery. Please note that items qualifying for U.S.P.S. media mail services (books, CDs, DVDs) may be sent separately and can take up to 10 days to arrive.