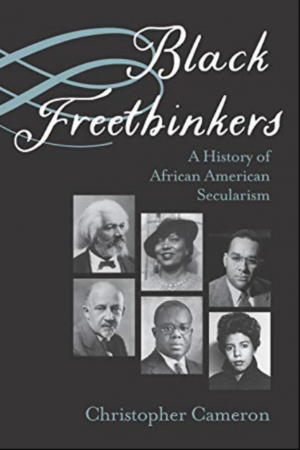 Black Freethinkers
A History of African American Secularism
By Christopher Cameron
A history professor at the University of North Carolina at Charlotte with research and teaching interests in African American and early American history, including slavery, the antislavery movement, religious and intellectual history. Black Freethinkers: A History of African American Secularism traces the long history of black humanism, atheism, and agnosticism from the early 19th century to the civil rights era.
Christopher Cameron suggests an alternative origin of nonbelief and religious skepticism in America, namely the brutality of the institution of slavery. He also traces the growth of atheism and agnosticism among African Americans in two major political and intellectual movements.
All copies are signed.
Paperback, 257 pages.
Sales price without tax
$35.00
Due to the COVID-19 pandemic order fulfillment may be delayed. Thank you for your patience!
Minimum purchase amount is $5.00. Prices include domestic shipping and handling costs. For international orders please call 1 (800) 335-4021
Proceeds support FFRF's unparalleled nonprofit advocacy to promote freethought and keep religion out of U.S. laws and social policy. FFRF is a not-for-profit charitable organization, not a retail business. We strive to make purchases easy and worry-free. Our "Make it Right" policy means that if you are not 100% satisfied with our products, just CONTACT US or call 608-256-8900 and we will work with you. FFRF makes every effort to fulfill orders accurately, and works to meet the expectations of our customers whenever possible. However, discounts, promotions, and bonus items are subject to availability, and may be discontinued at any time. Contact us regarding discounts on large orders, special requests, international orders, and costs for UPS or overnight delivery. Please note that items qualifying for U.S.P.S. media mail services (books, CDs, DVDs) may be sent separately and can take up to 10 days to arrive.