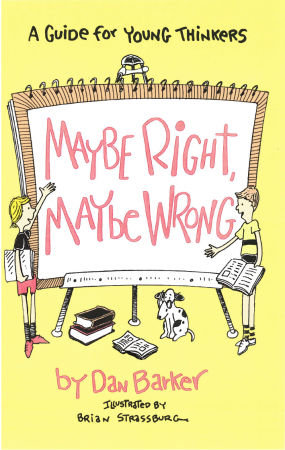 Maybe Right, Maybe Wrong
By Dan Barker. Illustrated By Brian Strassburg
Maybe Right, Maybe Wrong: A Guide for Young Thinkers affirms a child's ability to think, to seek information, and to ask, "Why?" By using factually based information and the tools of critical thought, without recourse to dogma or holy books, the book's main character, Andrea, learns vital moral lessons. Her most important insight: Regardless of one's own beliefs, you should respect everybody's human rights. Through fun illustrations and an engaging narrative, Maybe Right, Maybe Wrong communicates to children on their level important principles of moral choice.
Paperback, 76 pages.
Sales price without tax
$9.00
FFRF is a not-for-profit charitable organization, not a retail business. We strive to make purchases easy and worry-free. Our "Make it Right" policy means that if you are not 100% satisfied with our products, just CONTACT US or call 608-256-8900 and we will work with you. Also, contact us regarding discounts on large orders, special requests, and costs for UPS or overnight delivery. We typically process orders within 24 hours.