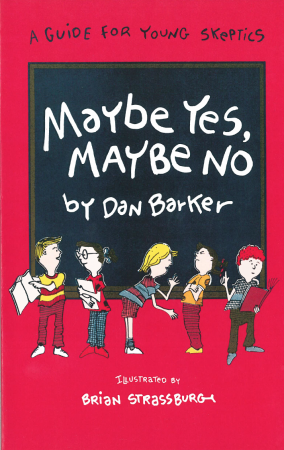 Maybe Yes (DISCONTINUED)
Maybe No
By Dan Barker.
Illustrated By Brian Strassburg.
Maybe Yes, Maybe No: A Guide for Young Skeptics is a child's introduction to healthy skepticism. The book's ten-year-old heroine, Andrea, is "always asking questions," Barker writes, because she thinks "you should be able to prove the truth of a strange story before you believe it." The book begins with a ghost story. When Andrea's friends claim that spirits are moving the kitchen dishes, she wants to check it out for herself. The adventure that follows illustrates that the best way to meet life's big and a little mysteries is with curiosity and open-mindedness.
This book teaches the essentials of critical thinking - "Check it out," "Repeat the experiment," "Try to prove it wrong," "It has to make sense," - illustrating each of these rules with clear examples. Maybe Yes, Maybe No assures young readers that they are fully capable of figuring out what to believe and knowing when there just isn't enough information to decide. "You can do it your own way," Barker writes. "if you are a good skeptic you will know how to think for yourself."
Paperback, 80 pages.
Sales price without tax
$18.00
Due to the COVID-19 pandemic, order fulfillment will be delayed. Thank you for your patience, and stay well!
Minimum purchase amount is $5. Prices include domestic shipping and handling costs. For international orders please call 1 (800) 335-4021
FFRF is a not-for-profit charitable organization, not a retail business. We strive to make purchases easy and worry-free. Our "Make it Right" policy means that if you are not 100% satisfied with our products, just This email address is being protected from spambots. You need JavaScript enabled to view it. or call 608-256-8900 and we will work with you. FFRF makes every effort to fulfill orders accurately, and works to meet the expectations of our customers whenever possible. However, discounts, promotions, and bonus items are subject to availability, and may be discontinued at any time. Contact us regarding discounts on large orders, special requests, international orders, and costs for UPS or overnight delivery. Please note that items qualifying for U.S.P.S. media mail services (books, CDs, DVDs) may be sent separately and can take up to 10 days to arrive.